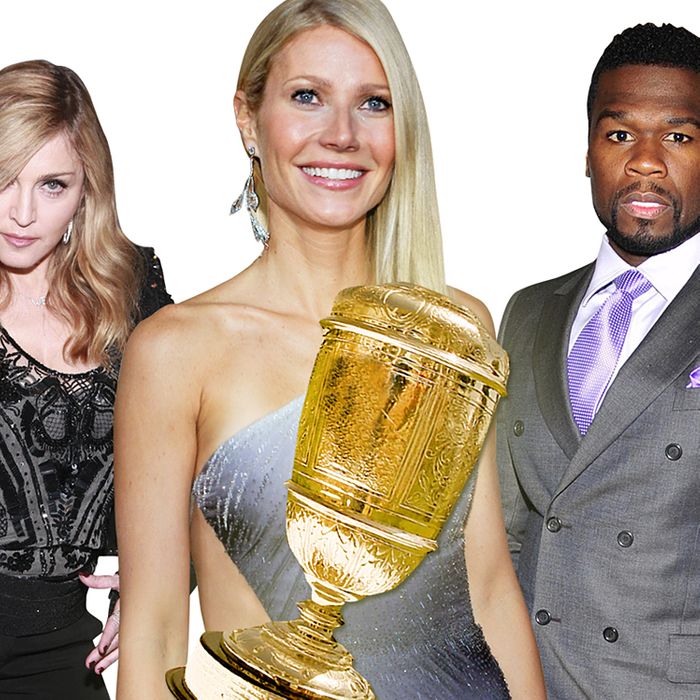 Photo: Patrick McMullan (Madonna), Larry Busacca/Getty Images (Paltrow, 50 Cent), Gregory Shamus/Getty Images (award),
This weekend, Madonna will take center stage at the Super Bowl Halftime Show, capping off a week of furious promotion for her new single ("Give Me All Your Luvin") and upcoming album, MDNA, which is due March 26. And this Friday, the movie she wrote and directed, W.E., will open in limited release. A new album, a Super Bowl, and a movie, all in two months? That's such a huge accomplishment that it deserves a name, like the EGOT (the Emmy-Grammy-Oscar-Tony milestone coined by Philip Michael Thomas and popularized by 30 Rock). We could call Madonna's the SAD, for Super Bowl half-timing, Album, and Directing a major motion picture. And why stop there? Vulture has designed other new acronyms to be bestowed upon those who have completed an assortment of awesome, multi-field accomplishments. Let's hand them out, shall we?
The RASH: 50 Cent
Rapping, Acting (All Things Fall Apart), Smartwater profits, and Headphone sales
The CAC: James Murphy
Comedy, Aborting successful bands, and artisanal Coffee-making
The CRAW: Gwyneth Paltrow
Cookbook writing, Rapping, Acting like a crazy Cee-Lo-singing substitute teacher, and Website Entrepreneurship
The DOP: Questlove
Drumming and D.J.-ing, OWS activism, and Pissing off Michele Bachmann.

The PHUB: Megan Mullally
For guesting on comedy-snob-approved sitcoms Parks and Recreation, Happy Endings, Up All Night, Bob's Burgers, and 30 Rock
The BMW: Blue Ivy Carter
Being a Baby, a record-breaking Musician, and having a strain of Weed in her name
The MEGA-P: Swizz Beatz
Making ridiculous celebrity-studded Music videos for file-sharing companies, almost becoming an Executive in said file-sharing company, Getting everyone to believe he was the CEO of said company, and Avoiding charges when the company in question is shut down by the Feds — oh, and Producing music
The SALSA: Taylor Swift
Songwriting, Arm-Dancing, Looking Surprised, and almost Acting in the highly anticipated screen adaptation of Les Miserables (She was robbed!)
The DONDA: Kanye West
For that Twitter rant and for his continued excellence in music, airplane-dancing, fashion-designing, movie-making, and Spike Jonze–directed summer schools. Since Kanye's many achievements are too large to fit into an actual acronym, we are fortunate that he has already supplied an awesome name that sums up his vision.
Your turn!