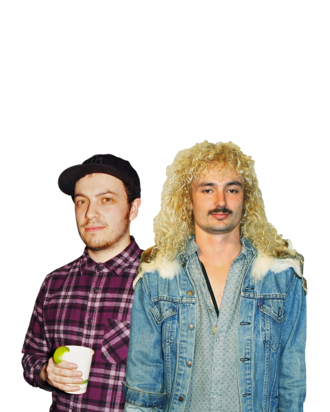 Late last year, the New York Times essentially ignited the buzz on Fort Lean after it declared the Brooklyn act "a big band playing small rooms." The indie-pop group has since built on that promise with a viral self-titled EP (featuring the escapist single "Beach Holiday") not to mention countless musings on its singer's unforgettable coif. To celebrate the release of their single "Sunsick," Fort Lean front man Keenan Mitchell and guitarist Zach Fried sat down with Vulture to discuss stuff like Dog the Bounty Hunter–as-spirit-animal and John Legend's allegedly filthy table manners. In between, they managed to squeeze in some thoughts about their music.
Let's just get this out of the way: How much crap do you get for your hair?
Keenan Mitchell: I would say about half the shit I get is for my hair.
From your bandmates?
Mitchell: They like it.
Zach Fried: I wouldn't say I like it. I'm extremely used to it. I remember the day he arrived with his hair. It was just like, "What the fuck?" But he's always had very big hair as long as I've known him.
Mitchell: The most common reaction is that people think it's attached to what I'm wearing on my head.
Who is your hair's spirit animal? There is actually a correct answer for this.
Fried: Obviously, the guy from [Comedy Central's] Workaholics. Or those tiny, ugly, plastic troll things with the wispy hair.
Those aren't even fake animals. The correct answer is "Whitesnake."
Mitchell: Or Dog the Bounty Hunter. When we were in Salt Lake City for Sundance [playing a T-Mobile/Google party], we were walking down the street and someone goes, "Yo! It's Dog!"
You're characterized as happy guys who make happy music. Is that fair to say?
Fried: I like the idea of it being uplifting sonically, but then the lyrical content is more complex, darker. Like what you may be experiencing in your own life is fucked up, but the overall feeling doesn't have to be there.
Like your "Beach Holiday" video, in which you play deli workers, which is essentially about having occupational doldrums.
Mitchell: I've worked at a deli before.
Fried: We were channeling our own personal experiences of incredibly terrible food-service jobs.
Were those your worst jobs?
Mitchell: I was offered a job to poop on a tarp for $20. That's probably the lowest job.
Did you take the job?
Mitchell: No, I did not. I can give you his number. It's this guy who lives in Union Square. My most stressful and least satisfying job was working a super-fancy Japanese place in Tribeca. I watched John Legend lick the grossest, trashiest bimbo's face while I was standing there in a samurai costume with a menu, being like, "Do you guys want to order … ?" He was just like [motions him to go away]. And I was like, "Okay, so I'll just come back … ?" That was the lowest. And here I am in costume being, like, "Hey, man, I'm an artist, too."
Fried: My lowest point for employment was the summer after my freshman year of college when I was back home and working at the local Guitar Center.
Mitchell: That is a different kind of low. That's like a chef going, "Yeah, I used to work at Kennedy Fried Chicken."
Fried: The guy that I was working alongside was this ex-military guy who was extremely competitive. So any time I would do well, he would try to sabotage me and give me these crazy looks. I was convinced he was going to stab me in the stomach.
Having met at Wesleyan, what is it like being grouped in with that scene, which includes MGMT, Das Racist, and Bear Hands?
Mitchell: It's cool to be in a group of bands that doesn't have a unifying musical sound. But we owe a lot to that scene, for sure.
Fried: That was how a lot of our music ended up circulating initially. Specifically, Hima from Das Racist was a proponent of ours. He blasted out our Bandcamp repeatedly on Twitter. By the end of a week of him actively pushing it, we went from being a band that no one had ever heard of to being a band that a lot of influential people [knew].
Thank you for making indie-pop that isn't lo-fi.
Mitchell: I don't want to hide any instrument that's playing, any melody. I want it to be decipherable, audible.

So how are you preparing for South by Southwest?
Fried: We're touring down to SXSW with Suckers. But we can't tour back because our drummer, Sam [Ubl], is a third-grade school teacher. The goal is for him to be able to keep his job through the end of this school year.
Mitchell: Kids gotta learn!
Fried: So Sam has to fly back here [to Brooklyn], while the rest of us are tasked with driving the van back from Austin.
This is a new van. How are you going to trick it out?
Mitchell: [Very excitedly.] One of the coolest things about our van is that it's thief-proof because the driver's side door doesn't open, and it doesn't start when it's in park. And then another cool thing is if you get pulled over … in the intervening time, there's actually a hole in our van that goes all the way through to the street. It's a drug ditch.
Fried: It's roughly the size of a quarter. So other plans for the van include: We're going to get a functional tape deck, and we're going to get a crazy-ass tint that's illegal in Virginia.
Mitchell: My girlfriend's gonna reupholster all the seats, probably with pleather.
Fried: And some kind of periscope in case traffic gets bad, so we can see what's going on ahead. Uh, and then I also think we're going to get some kind of cheap lambskin steering-wheel cover. We can't subject our hands to this type of abuse. We are coddled little babies.