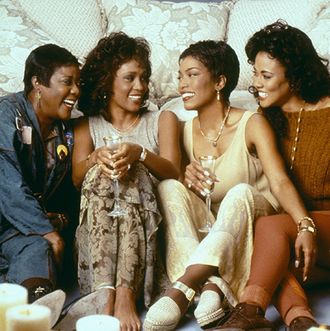 'Waiting to Exhale.'
Photo: Twentieth Century Fox
Though executives are still in shock from the unexpected death of Whitney Houston, Fox isn't letting its planned sequel to Waiting to Exhale perish with the pop icon. "I don't think she would want it to," Elizabeth Gabler, president of Fox 2000 Pictures, said in an interview with Vulture Monday afternoon, adding, "It's almost in her honor that we think to soldier on."
Barely a week after author Terry McMillan published Getting to Happy in early September of 2010, Fox snapped up the feature rights to the best-selling sequel to Waiting to Exhale. After all, when Waiting to Exhale had first appeared in 1995 as the first Hollywood film to show a realistic view of the secret life of middle-class black Americans, it quickly became a phenomenon. Gabler took the picture on the road, booking its entire cast on The Oprah Winfrey Show to promote it.
"This was the biggest barrier-buster for color lines," she recalls, "[Exhale audiences] practically tore the theater down; we couldn't get them to leave. All these young women in their twenties and thirties wanted to stay and talk about what they'd just seen: Suburban women drinking Chablis who weren't living in the projects or stuck in gangs." In fact, another Fox 2000 executive who worked on Exhale, Lori Lakin, was so inspired by the film's theme of life goals postponed that she made the leap into screenwriting herself: For the past year and a half, Lakin has spent her time working with McMillan to adapt Getting to Happy, which she balances with her current job as a writer-producer on the VH1 comedy series Single Ladies.
Still, Gabler cautions, "There is no movie without a great script," and the crushing demands on Lakin's time coupled with the fact that Happy is a priority at Fox 2000 means the studio will soon be hiring new writers who'll be able to work on Happy full-time, under the supervision of original Exhale director Forest Whitaker.
As the shock of Houston's untimely death wears off, Gabler expects conversations to occur about who might replace her in the sequel. Given that Oprah Winfrey helped promote the film and has the acting chops, Gabler allowed that "it isn't inconceivable" that Winfrey herself might have an interest in carrying the torch for Houston, but quickly cautions, "We literally have not talked about anybody for that part. Forest, I know, is just … grieving. He'd been the one who was speaking with her, updating [Houston] on its progress."
Meanwhile, there's another irony about the timing of Houston's passing: At Warner Bros., a package will be delivered today at the offices of producer Dan Lin. Inside it is the new script to a remake of Houston's biggest big-screen hit, The Bodyguard, which Lin has freshened up with a U.S. Army special forces commando fresh from Iraq.