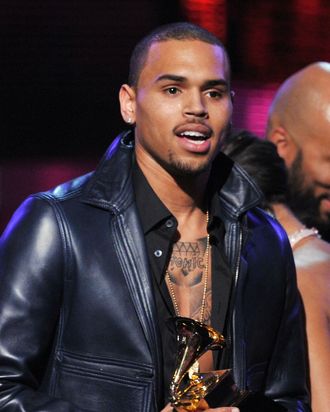 Singer Chris Brown accepts the award for 'Best Rap Performance' onstage at the 54th Annual GRAMMY Awards held at Staples Center on February 12, 2012 in Los Angeles, California.
Photo: Kevin Winter/2012 Getty Images
The Grammys are under fire for giving so much airtime to Chris Brown, and until today, Brown's been using his Twitter account to add more fuel to that blaze. "Strange how we pick and choose who to hate!" he tweeted yesterday. "Let me ask u this. Our society is full of rappers (which I listen to) who have sold drugs (poisoning) … HATE ALL U WANT BECUZ I GOT A GRAMMY Now! That's the ultimate FUCK OFF!" Just now, though, Brown appeared to delete nearly every tweet he's ever put up, and that included a final warning hours ago to the pundits who continue to question him: "DEAR MEDIA.. Ur plan is not working.. I'm not going anywhere so get used to me," he wrote. "How long is this gonna take?" We'll put that question to you, then: As rumors continue to fly that he and Rihanna may be collaborating (or even dating) again, have you forgiven Brown for notoriously beating the singer three years ago? Or is that simply not possible?