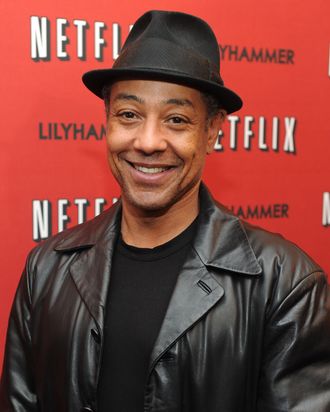 Actor Giancarlo Esposito attends the North American Premiere Of "Lilyhammer", a Netflix Original Series at Crosby Street Hotel on February 1, 2012 in New York City.
Photo: Jason Kempin/Getty Images
Breaking Bad baddie and upcoming Community guest star Giancarlo Esposito will star in J.J. Abrams's upcoming pilot Revolution for NBC. The "high-octane drama," from Supernatural creator Erik Kripke, is about a group of people trying to survive "in a world where all forms of energy have mysteriously ceased to exist." How lawless! In the sense that the laws of thermodynamics would thus no longer exist. Does this include potential energy, so springs are no longer springy? What about heat? Or just the forming of any ion? That kind of energy, too? The mind reels, friends. Esposito will play Lieutenant Neville, a southern gentleman and steely military man with a secret, so maybe he will figure it out.