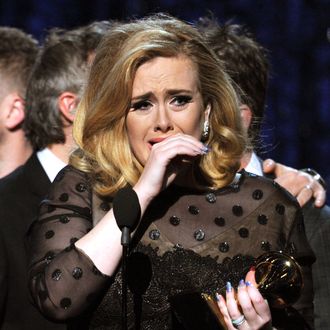 Grammys' secret weapon, Adele.
Photo: Kevin Winter/Getty Images
Boom! Approximately 39 million Whitney Houston and Adele fans tuned in to Sunday night's Grammy Awards, making it the second-most-watched Grammys in the show's 41-year history of live broadcasts and beating the tune-in for last year's Oscars. (Only Michael Jackson's 1984 Grammy sweep has done better in modern times, bringing in 43.8 million viewers.) Sunday's show also did well with younger viewers, averaging a 14.1 rating with those under 50 (the best in that demo since 1990, and up a whopping 44 percent from last year) and a 12.1 with viewers under 35 (the biggest since 2001). Compared to what's usually the year's biggest awards show, the 2012 Grammys beat last year's Academy Awards by just over 1 million viewers (37.6 million watched the movie awards) and, with adults under 50, it won by a wide margin (the Oscars notched an 11.7 demo rating).
Barring some major controversy, it's hard to see this year's Oscars out-rating the Grammys, particularly given the fact that most of this year's nominated best pictures pulled in under $100 million. As for the Grammys, while curiosity over a planned Houston tribute no doubt boosted viewership in a big way, don't underestimate the appeal of Adele. Her album 21 sold just under 6 million copies in 2011, making it the biggest U.S. release since Usher's 2004 entry Confessions. In any event, based on last night's numbers, we're predicting a prime-time broadcast network tribute to Houston and an Adele concert special will soon be put in the works.