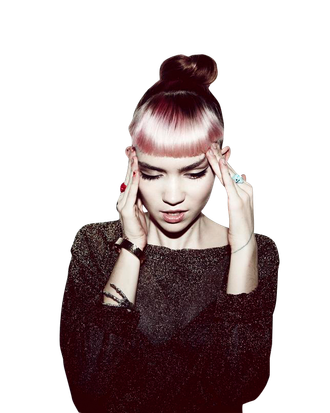 She's only been releasing music for two years as Grimes, but Canadian singer-songwriter-producer Claire Boucher has already gone through a career's worth of change, moving from the creepy, lo-fi R&B of her early releases to the futuristic dance-pop of her new album, Visions. We spoke with Boucher ahead of today's release about her sources of inspiration (including New Edition and anime), getting sick of her own voice, and wanting to produce.
Even though you've only been recording for two years, Visions is already your fourth album. How have you managed to be so prolific?
I make tons and tons and tons of music, and I just try to whittle it down to what people like most. It's really hard for me to analyze my own music. My favorite music is never the music that anyone else likes and other people's favorite songs are always my least favorite. There's always songs I try to take off the albums and my manager's like, No, don't change it.
Is it hard to please a crowd when the songs they want to hear most are the ones you least want to play?
The most valuable live thing for me is when people look like they're having a good time. I don't feel bad about playing "Vanessa" live, because I like it when people dance, even though if I hear it one more time I'll shoot myself in the head.
A lot of listeners know you because of your singing, but you also do all your own production, right?
Yes and I always have. I see myself as a producer. I mean I really like singing, but I would rather work with other vocalists. I've been doing some producing for some rappers lately. Which is really fun. Mostly, my dream job would be sitting in a room, cranking out hits for Rihanna.
That's why I love doing remixes because I like working with other people's vocals. I feel like vocals are to music what portraits are to painting. They're the humanity. Landscapes are good and fine, but at the end of the day everyone loves the Mona Lisa. I'm just so sick of my own voice at this point. I would love to engineer a pop star. Get some girl who's great at singing; write all her music for her, put her clothes on her, make her perform. That would be really fun. I'd like to be like the Phil Spector of the future, except less abusive.
Have you thought about just focusing on producing?
Yeah, I really want to do that, but I think the best way to do that is to become a pop star first and build credibility. Everyone just thinks I'm a singer and always asks who produces my stuff. Everyone wants me to sing which sucks. I feel like I need to like build the product of Grimes and then I can get some power and influence.
Is that frustrating?
Yeah. It used to not bother me, but it's getting to the point where it's starting to piss me off quite a bit. People assume if it's a girl singing and it's a dance track, that someone else made the track. It's a little frustrating, that the default is, Oh she's singing, that's all she does. I think singing's a great art form, but I'm not that good at it. I'd say my main skill is faking it. I'm not a great singer, I'm not a great producer, I don't know shit about music, but I sort of pull everything together so that people think that I do. I probably shouldn't say that to you.
What were your main influences for Visions?
When I was making it, I was listening to a lot of Outkast, Dungeon Family, New Edition, TLC, Michael Jackson, and Mariah Carey. And then a lot of Burial, Black Dice, Aphex Twin, and Nine Inch Nails. I'm into the really caustic beats, the kind of sharp drum and bass kind of stuff. Really nice vocals too, with lots of tight harmonies at the same time. I'm working on a sort of industrial album right now. I want it to be like industrial meets Jigglypuff [a Pokémon character]. I want it to be an anime-industrial album. This next album is probably going to take me a lot of time. I'm kind of limited in when I actually record, and I can't record when I know people can hear me. I always picture my brothers laughing at me. I hate it.
What is it about sci-fi and anime that influences you?
There's always these really tough strong female protagonists who do all this crazy shit. Sci-fi and anime really emphasize that more than other genres. I feel like anime's really cool because it's focused on philosophical stuff and it has these intense love stories. I'm a sucker for love stories. It's also always super aesthetic. Everything is beautiful all the time. I think everything should be like that.
Are you starting to grow more comfortable with yourself as a musician?
I think playing live reduces one's inhibitions. My general demeanor has become a lot more outgoing because I'm constantly talking to people I don't know and doing really embarrassing things in front of them all of the time. Two years ago, talking to someone on the phone that I didn't know would have been the most outrageous thing possible. I would've been too shy. I feel like my whole personality is changing. It's great. I used to be so nervous, like, all the time.