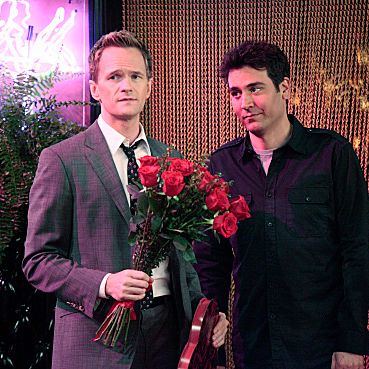 Photo: Richard Cartwright/FOX
Is HIMYM trying to step on the recapping game? Yes, Future Ted, we know what happened in the last few, seemingly hasty episodes, and so do your kids. Of course, his retelling is the central gimmick of the series, but it doesn't bode well when one entire episode barely moves the plot forward, and the writers feel it necessary to remind us of the preceding whirlwind of events – almost as if they're the ones having trouble keeping up with the narrative.
It's sometimes difficult to watch a precious show walk with turtle-steps towards its finish line. The series' lack of an end date is good for those of us who just want to watch these characters forever, but bad for the plot (see: Lost). What really happened last night? Marshall and Lily admitted that the suburbs, which they never really seemed at home in, were suddenly an unsatisfying destination, and Barney once again tried to convince a woman that he was a better man than he presents, which isn't even necessarily true.
Rewinding: Ted tried to get over Robin by turning her former bedroom into an activity palace—a place where he smokes meat and works wood and shapes pottery and does anything that leads to a good masturbation joke. Meanwhile, he dealt with a not-terribly-lovesick Barney, who developed a crush on a stripper (Quinn, a.k.a. Karma, played by Becki Newton). Apologies if this is a spoiler-alert, but Becki Newton has been cast in the HIMYM creators' new series, so she's unlikely to be Barney's long-term fling.
The scene in which Barney discovered her line of work was predictable, but amusing. "I see her everywhere. I see her walking down the street. I see her shopping in a store. I see her dancing on that pole." Ted: "I see her dancing on that pole, too." Barney was repeatedly milked for money at the Lusty Leopard as Karma pretended to verge on genuine emotion only to stop talking every time a song ended—perhaps a fitting punishment for a guy so committed to objectifying women. Clearly, that's the idea here, spelled out when Quinn later told him, "You can't pretend to be some hurt little victim to me." But Barney still pursued her to the champagne room, where the rules are universally known.
Meanwhile, Robin suffered in her temporary home in the suburbs. Crashing with a SnuggIt-wearing Lily and Marshall, she kept a sociologist's diary that reached Misery-levels of horror, documenting non-stimulating activities like table shuffleboard and macramé "that are used in Manhattan to calm down drug addicts and the criminally insane." They go to museums and bowl and look at menus with pictures. They hit the sack before 10, "fearing, as they do, the night." Robin hated it so much, she considered moving in with her arch-enemy Patrice, trying to make a break for it on the back of Shirley's Rascal ("I swear, it's the second half of Wall-e out here.") Of course, Marshall and Lily were desperate to keep her captive because they, too, hate being stranded on Long Island.
But here's one thing that this recapper has always loved about HIMYM, and which keeps it worth watching until the very end: It manages to reflect reality with alarming accuracy. For instance, among many instances, I happen to be moving to another city and, yes, it would be great to kidnap friends and force them to come, too, but as Robin essentially says to Marshall and Lily, it ain't gonna happen. The people you love can't come along for the ride and populate a whole new place, although it's frequently suggested.
Lucky enough for Marshall and Lily, they get to return to their beloved homestead instead of enduring the wrath of change. Ted, after an episode spent being teased by the ghost of Robin, decided the apartment was haunted, but by him. He told Marshall and Lily that he hadn't taken their names off the lease, adding that the place needed "new life." Okay, it's mainly a contrivance to keep that set in rotation—Marshall and Lily owned an apartment in New York, and no one here shuts up about how that's so much better than renting. But contrivances aside, it was a sweet, sentimental note. Good old Ted.
So Barney charms his new lady with this incredibly invalid statement: "It's funny, almost every woman I've ever met was wrong to give me a chance. You're the first woman who's wrong not to." Really? Earlier in the episode he was telling Ted how sex with Quinn left him cross-eyed, which was like having a threeway with twins.
As for Ted and Robin, their loaded conversation about Marshall and Lily remained frustratingly vague. Robin: "Deep down they realize it isn't a good fit." Ted: "It's hard to admit that sometimes." Robin: "Sure is." Ted: "I think it's better to face it and move on then force something that isn't meant to be." Robin: "I think so." It doesn't scan as all that vague on paper, but there seemed to be longing in their eyes. Maybe it's wishful thinking. So the question is, where is Ted going? Is he moving to his long-forgotten house? Real estate in New York isn't all that easy to come by. There's six episodes left, so we're heading into the home stretch. Beyond the baby, it'll be interesting to see what surprises the season has in store – and to finally find out the identity of Barney's bride.