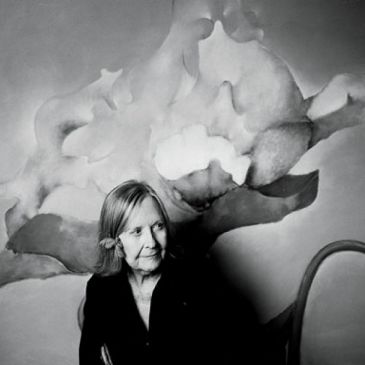 Dorothea Tanning, pioneering Surrealist, in 1998.
Photo: Peter Ross, Courtesy of The Dorothea Tanning Foundation
Dorothea Tanning died today at 101, and pieces of history die with her. Artist, poet, wife of Max Ernst from 1946 until he died in 1976, and (along with Frida Kahlo, Leonora Carrington, Kay Sage, Lee Miller, Maya Deren, Remedios Varo, and Leonor Fini) one of a group of great women Surrealists, she was at the center of a movement that was a vicious mill for women. Among the surrealists, females — while "allowed" to be artists — were often also relegated to the sidelines of neglected or beset mistresses, muses, and madwomen.



In her memoir, we hear how she and Ernst fell in love while playing chess, how the two of them lived in Arizona before moving to France, of their double wedding with Man Ray and Juliet Browner, of her friendships with Picasso, Breton, Magritte ("sweet"), Duchamp, Tanguy, Truman Capote ("a neat little package of dynamite"), Orson Welles ("scowler"), Joseph Cornell ("the courtly love of the 13th century troubadours"), and how she designed sets and costumes for the great George Balanchine. Noting how pleased she was that Ernst never called her "wife," she observes, "He was very sorry about that wife thing. I'm very much against the arrangement of procreation, at least for humans. If I could have designed it, it would be a tossup who gets pregnant, the man or woman. Boy, that would end rape for one thing. And 'woman artist'? Disgusting." She writes about being alone on a bus in Chicago and deciding, with no plans or place to live, to go on to New York. There she "ate curry powder sandwiches, took Hindu dancing, read the 'Bhagavad-Gita' and Emily Dickinson, impartially." In 1936 she saw the MoMA show "Fantastic, Dada, and Surrealism" and recalled that "here, here in the museum … are signposts so imperious, so laden, so seductive, and yes, so perverse that … they would possess me utterly."

Those signposts startle still in her work. Sexual tension slithers; emotional ambiguities multiply. In my mind's eye I see her 1943 Birthday, tinted in violet, green, and gray; a woman staring at us, outfitted only in a lacy skirt made of moss or roots, barefoot, bare-breasted but natural, not an object of the gaze, still lost in some hall of doors while a winged demon perches by her feet — warning of her presence wherever she might trod. It's Tanning, who later said herself, "My breasts didn't amount to much. Quite unremarkable. Besides, when you are feeling very solemn and painting very intensively, you think only of what you are trying to communicate." I see the masterpiece A Little Night Music, a 1943 image of little girls on a landing, becoming undone, one's hair flying to heaven, another's unraveling to the floor, both near a giant sunflower waiting for something, anything to happen, while a force removes them from our world. Without this painting there is no work by an artist like Neo Rauch. I see her 1944 The Game of Chess, its satin pump crushing a bishop's miter atop a chess board, perhaps thoughts about making her way in an almost all-male art world, perhaps a coy comment on her friend Marcel Duchamp. I see her bulbous sculpture of a wool-covered couch disgorging or giving birth to itself. In all of this I see ways paved for artists like Yayoi Kusama, Louise Bourgeois, Lee Bontecou, Francesca Woodman, and many more. Dorothea Tanning is a reminder that all of us should try to live big lives.