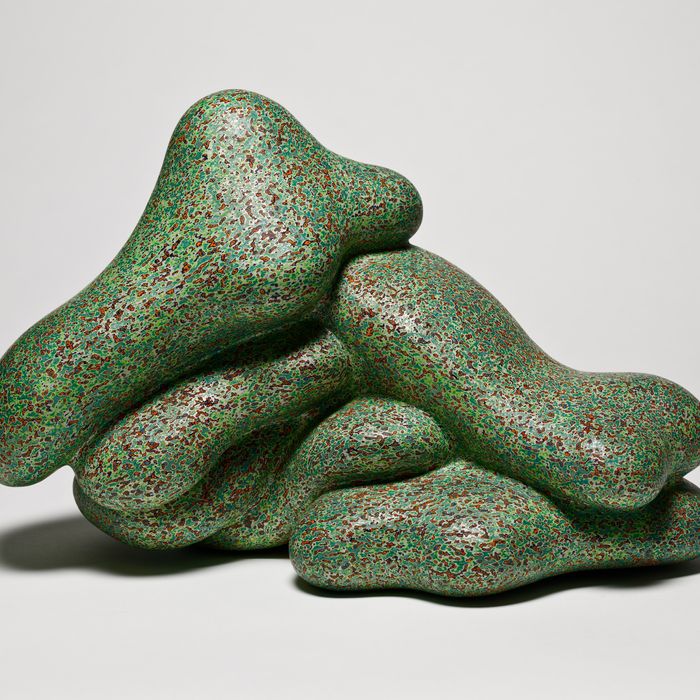 '100% Pure' (2005), by Ken Price.
Photo: ? Ken Price, courtesy of the Los Angeles County Museum of Art, LACMA /Photography ? 2011 Fredrik Nilsen, All Rights Reserved
One of America's greatest sculptors died today in New Mexico. Ken Price made dazzlingly colored visionary clay constructions,  planar extensions of Cubism as complex and concentrated as Picasso's absinthe cup,  mineral-mini-worlds with reptilian skins and black-holes, and super-color-saturated sexual drawings. His large scale phosphorescently flecked mounds with their flickering bird-of-paradise surfaces look like living hallucinations. All of these are among the most densely sensuous and inspired sculptural works ever produced in this country. Price said "every aspect of the physical work should be brought to full resolution." That is exactly the optical intensity Price achieved over 50 years of brilliance.
Price was consistently championed by a hardcore group of artists, critics, and art-dealers who unabashedly loved and supported his work. He was regularly collected, was on the cover of Artforum at the age of 28, and had had a solo show at the Whitney Museum by the time he was 34. Yet, in his lifetime, he was perhaps the least known first-rate American genius alive. Maybe it was because he spent his entire career in California and New Mexico. More likely is that he worked in clay, and clay doesn't cut it as "major art" in most people's minds—unless of course its Duchamp's urinal or Méret Oppenheim's fur-lined tea-cup—and then no one mentions that these works are ceramics. Fortunately, the Los Angeles Museum of Art will mount a full-scale Price survey this coming September, and the show will travel to the Met the following year.I'm thrilled, though it makes me wonder why it won't be at MoMA or the Whitney, which ought to have been paying attention.
For me, Price's organically shaped large hollow hillocks of curvy clay are complex combination of sexual, sensual, and excremental. His objects are otherworldly silicon-based life forms, unclassifiable as art, form, or ideas. They send me. They have the presence of those magnificent Mesopotamian wall reliefs of gods and kings, except that they're rendered into abstract bulbous three-dimensional Möbius bulges of walk-around, floor-bound sculpture. Or maybe Neolithic stones reshaped and placed in a time machine set to the 25th century. Think of one of Calder's fabulous standing painted planar arching shapes that sit like spaceships on floors; fill in all the space and connect every part of the form with every other part of it, then inject helium inside, place it in a cosmic spray-paint booth, and cover it with luminescent color flecks that make it look like a million-eyed being from another dimension. These are some of Ken Price's ideas of sculpture.
He must have seen even the three dimensions of Cubism as being too limiting or flat, and so, like Donald Judd, began building shapes that tried to elaborate the inside of things. Price explored the myth of sculptural emptiness and tried to show how the an object has other surfaces beyond its outer skin—below, in-between, within every pucker of color, in every nook and cranny of every crack and crevice. Yet Price's feel for density makes his objects seem to emit compact force fields of binding energy. His sculptures in the shapes of cups and pitchers have the implied metaphysical sense that if you poured liquid into one of the holes it would vaporize or come out on Mars or the Ganges. I feel the self at play in the fields of bliss.