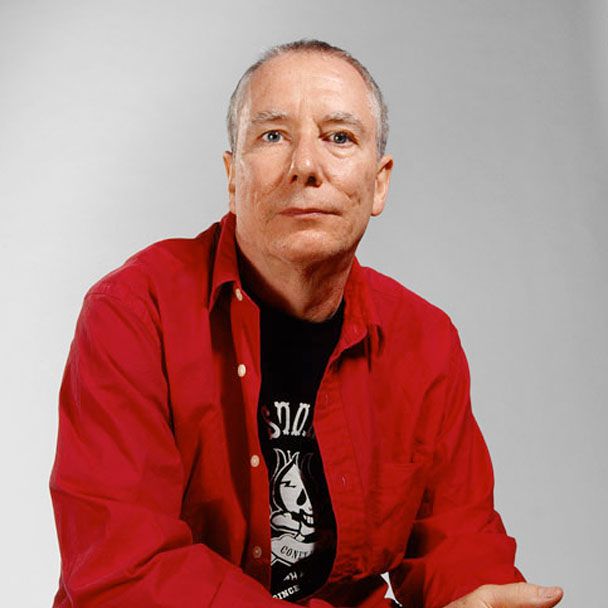 Mike Kelley.
Photo: Cameron Wittig (c) 2004. Courtesy of Kelley Studio and The Walker Art Center
The roiling perverse genius Mike Kelley is dead at 57, reportedly by his own hand. Kelley, a Detroit native, spent his whole career in Los Angeles, where — with Raymond Pettibon, Paul McCarthy, Catherine Opie, Jennifer Pastor, Charles Ray, and Jason Rhodes — he helped turn the incipient foreboding of Edward Kienholz, Ed Ruscha, Nancy Rubins, and Chris Burden into an all-out acrimonious art of darkness. In 1992, the Los Angeles Museum of Contemporary Art organized many of these artists under the rubric "Helter Skelter."
Kelley was all of these artists rolled densely into one, a stand-alone visionary in his own right. He is the originator of his own form of sculptural mayhem: cacophonous disorienting agglomerations and sprawling installations of stuff heaped upon other stuff, some made, some found, all organized in ways audiences could access but that also felt infinitely other-ish, deeply carnivalesque, always operatic, and utterly unrelenting. One of the greatest of these testosterone-fueled, grandiose neo-gesamtkunstwerks was Kelley's 2005 building-filling Day Is Done at Gagosian's West 24th Street palace. I called this show "Clusterfuck Aesthetics." It looked like a madhouse and hummed with what architect Renzo Piano called "imaginary cities where everything keeps moving." The organizing factor was a single found old high-school yearbook. Everything in the show — pictures of kids in Halloween costumes or in school plays, gigantic sculptures with moving parts and films with their own soundtracks — was generated by and based on the pictures from this book. It was a sculptural multiplex megalopolis of paintings, sculptures, photographs, and other highly produced idiosyncratic installations, a walk-in cathedral of the id, a trip into America's suburban past, and Kelley's burning imagination. He was willing to fail as flamboyantly as any artist of his generation.

Like a haunted Sol Le Witt, Kelley excelled at inventing systems and finding artistic syntaxes to create his work. He made large felt paintings based on collegiate banners; created hangings from help-wanted and singles ads on church and coffee-shop bulletin boards. For the 1991 Carnegie International, he created a huge room-filling taxonomy of found stuffed dolls and figures laid out like scientific specimens on large folding tables. This Frankenstein's laboratory grew out of his 1987 masterpiece of love, abjection, desire, need, wastefulness, and redemption, More Love Hours Than Can Ever Be Repaid. This wall piece resembles a three-dimensional de Kooning seen from afar; up close, we see that it's composed entirely of stuffed animals and found afghans, mounted on canvas. In this one work Kelley does a dervish dance in Rauschenberg's famed gap between art and life, creating an abstract composition transmuting the emotions poured into these objects by their many former owners into a new language that, like art itself, exists on the edge beyond words, in an uncanny archaic place well within the realms of ancient and current strangeness. Mike Kelley was a giant.