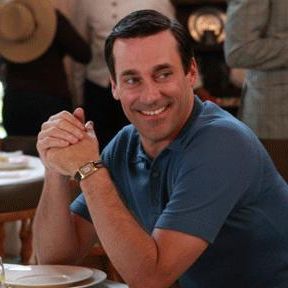 Jon Hamm is on the cover of the March issue of Esquire, looking how you'd expect Jon Hamm to look on the cover of Esquire: Dapper, happy, alongside a mostly nude woman. (Kate Upton, having quite the week.) But the accompanying profile, from profiler extraordinaire Tom Chiarella, is a bit much, even for the stylized Chiarella. The joke of the story is that Hamm's image is larger than life, but that joke winds up creating one of the more baffling profiles in recent memory. The ten most ridiculous lines:
1. "This is really more description than metaphor. He's poetry. Eagle poetry. Dark eyes, brightened skyward, shoulders flaring."
2. "He has scouted the course, like the good egg he seems compelled to be."
3. "He shrugs like a guy who took a shower by walking through the rain."
4. "He's impossible, because he looks good and he looks like he is good, too. He dangles victory from his fingers, as if he had a key fob for every circumstance, as if his whole world started with an on button that works only when he is proximate. He treats good-looking the way you treat your favorite sweater: He leaves it on without thinking about it."
5. "When Jon Hamm talks about the St. Louis Cardinals, his face happily divides into the components of angular male handsomeness."
6. "His shirt hangs on him like a taut sail."
7. "What he is, I decide right there and then — under the sodium lights, in the throbbing clutch of his sedan, beneath the bug-laden, bat-heavy night sky — is Paul Bunyan. There's hyperbole in the way the world regards the man he pretends to be. And there's a kind of tall tale in the grinding strength of his normalcy."
8. "Do I exaggerate? Yes. But the character he plays is so grand, and his true self so modest and small, that you have to stretch Jon Hamm and chop off Don Draper's legs to fit the same bed."
9. "He says he's not leaving us, he's not quitting. Quite the opposite. There's still much Hamm to be had."
10. "In back, there's a big, Shasta McNasty-looking Mercedes C 63 AMG." What does that mean?!
We get it, guys.  He's handsome.