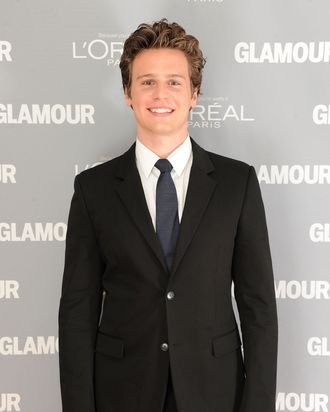 Jonathan Groff attends Glamour's 2011 Women of the Year Awards on November 7, 2011 in New York City.
Photo: Dimitrios Kambouris/Getty Images
While we surely aren't alone in thinking that there has got to be some TV show — if not scores and scores of pilots — that would be lucky to land the handsome, talented, missed-on-Glee Jonathan Groff as their star, we here at Vulture are not career planners, just smart aleck career advisors. And so it is with a bit of head-scratching we note that Groff has signed on to be a season regular on Starz's Boss, a perfectly solid bit of award-winning quality television starring Kelsey Grammer as the mayor of Chicago that very few people watch. Why are you hiding your light on the outskirts of premium cable, JG? Also signing on for the second season: the lovely Sanaa Lathan, who will play Grammer's chief of staff. (Groff will play one of his staffers.) At least that's two brand-new, very good reasons to start watching Boss!