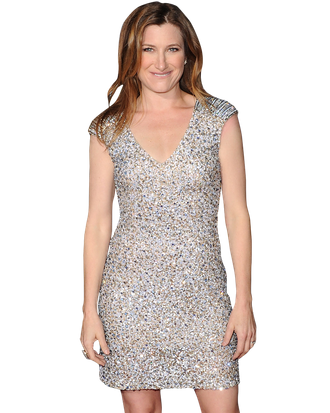 Kathryn Hahn.
Photo: Jason Merritt/Getty Images
Kathryn Hahn starred for years on the dramatic Crossing Jordan, but dabbled in comedy via Adam McKay and Will Ferrell–driven films Anchorman and Step Brothers. This year, Hahn is attacking the genre full-force. After her sitcom Free Agents was canned, Hahn signed on to play an upcoming part on Parks and Recreation. She's also a manic, opinionated hippie-type in Wanderlust, the latest David Wain–directed film that stars a bevy of other talented comedic folks like Paul Rudd, Jennifer Aniston, Justin Theroux, and Ken Marino (plus Joe Lo Truglio's huge prosthetic penis), about a Manhattan couple who finds their way to a Georgia commune. We chatted with Hahn about comedy cliques, her strange serendipity with Paul Rudd, and what it's like to be a control freak in Hollywood.
The premiere was last night in Los Angeles. How did it go?
It was a ball. [My] spanks probably ended up in a publicist's bag because I was like, I can't wear them anymore! I had not seen the film since a really rough cut a long, long time ago. It was like three hours long.
A lot more time with Joe Lo Truglio's penis?
Yeah. Well, there's nothing funny about Joe Lo Truglio's penis. It's deadly serious business. That thing is awesome. There are some amazing shots of this particular penis. A really amazing one through car windows, squatting down, just the nuts, it's pretty amazing. Sometimes the head just kind of enters the frame. It is definitely a character in the film.
I saw the film and there was very, very different kind of laughter every time it came on.
Right, exactly. People are shocked. Lotta moxie, that Joe.
You've got a few episodes of Parks and Recreation coming up, alongside Paul Rudd. You guys seem to find each other in every single project you do.
You know what? It's annoying because he's riding my coattails and I really wish he'd just take some initiative. It's embarrassing.
Is it accidental that you guys end up together? Or is it purposeful?
No! Oh, I mean, my life is a big accident, so where I end up, I think it's all accidents. It's so amazingly coincidental and accidental. Also, there seems to be this thing where really good people keep working together over and over again, and I am just excited to be invited to the party a couple of times. I feel grateful that the person I end up working with a lot is Paul Rudd. He's a prince among men, and so talented, and generous, and effortless.
Do you get the sense that comedy circles are a little cliquey? Like once you're in, you're in?
Exactly. If I make one wrong move, I'll be ostracized from the cool kids club. It's just like high school. It's awful [laughs]. I think people want to work — the shorthand makes it so much easier, so much safer, because there's none of the weird forced politeness and getting to know each other. It's already there. And also they're so talented. It's not like they're moving into a pod of mediocrity. I can understand why they'd want to keep working together.
You don't get that sense in drama: that there are drama communities with actors who find ways to work together again and again.
I totally agree. I think comedy, how do I describe it … I don't know. I'm going to say something that's going to be total bullshit.
No, I want you to say it!
I feel like there is something about having a copacetic world POV that helps in making a comedy. Like, David Wain has such a particular way of looking at the world. It helps when everyone can see behind his eyes, you know? A lot of actors are like, "Why do I do this? My character wouldn't do this? This doesn't make sense." And in a comedy, you kind of just need to walk into the door.
You were on Crossing Jordan for many years. What was it like, then, to be on Free Agents, a show that got canceled very quickly?
We all kind of saw the writing in the wall. Tonally, it was such an interesting show and group, and it takes a second for a show to get its legs anyway. And I don't feel like, for various reasons, we could afford the time to give us that space.
What do you do when that happens? I assume that in your mind you're planning out the rest of your year.
I know. And it's so hard, because I'm such a control freak. But in this business you just can't [be one]. This, and parenting. You can't control anything. It's just a game. As soon as you take a deep breath, you have the rug pulled out from you. Once again, bullshit is coming out of my mouth, because it's very difficult to live this kind of life. I'd love to get to a point where I could just be independent, not care about tomorrow.
It sounds almost like an Eastern philosophy. Do you subscribe to any Wanderlust-y beliefs?
I really wish that I could. You have to be a really evolved human being to be able to do that. Again, I'm a control freak so it's difficult to let go. That's gonna be my journey.
I think you picked the wrong business.
Exactly. Ask my mother, she'll say the same thing.