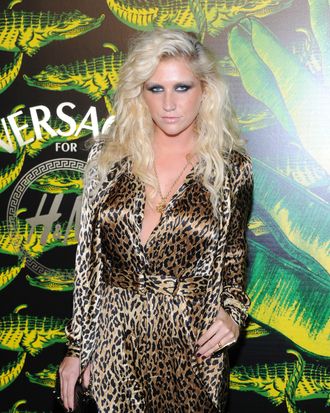 Ke$ha attends the Versace for H&M Fashion event at the H&M on the Hudson on November 8, 2011 in New York City.
Photo: Jamie McCarthy/Getty Images
How does Ke$ha entertain herself? Unclear. But how does she say she entertains herself? Oh, you know, vicious sex and dancing dongs. "I do destroy men on a weekly basis. It's like a hobby. I'm like a praying mantis," she tells Glamour. "They fuck me, and then I eat them." How very badass and totally authentic-sounding. It's not all angry insect mating, though. "I'm … very amused by five-year-old humor," she admits. "But who isn't amused by a giant, dancing penis?" Who indeed! "Sometimes when I'm sad, I make my assistant put on the penis outfit and bounce around my house," she says, just in case you thought being Ke$ha's assistant sounded like a super-professional, by-the-book gig.