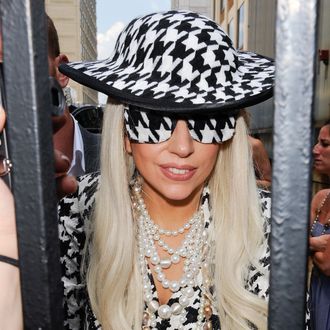 Photo: Ray Tamarra/2011 Ray Tamarra
Lady Gaga's latest epistle in V addresses her interest in sports and why she enjoyed Moneyball, which she of course tackles by discussing her love of pearls. "I thought of the pearl during my exploration of 'the game' because as an accessory, pearls are the most game-changing and timeless of them all," she writes. After a joyous pearl-buying spree, Gaga had a chance to reflect.
I lay down on the airplane back from Japan, tossing around some dashi, fondling my pearls. I watched the movie Moneyball for the first time. I began to laugh and smile as [Brad] Pitt talked romantically about the game. I suddenly imagined that my pearls were teeny-tiny baseballs. When a player hits a home run, the baseball is flung into an abyss of enigma and screams so great. It travels so far that only rarely is one caught in the bleachers. Where do these balls go? Where do all these wins get encased? Are they in a heavenly baseball land floating around for players who pass to acknowledge? Or do they disappear?
Nitpicking the musings of Lady Gaga is a futile endeavor, but: Home runs are not "rarely" caught in the bleachers, and we'd hardly call the upper deck "an abyss of enigma."