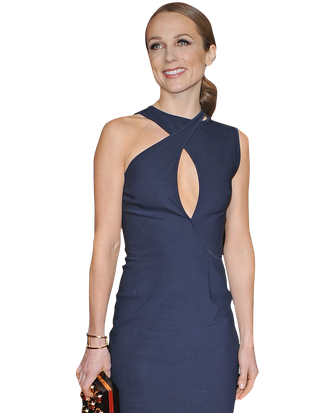 Kerry Condon.
Photo: ROBYN BECK/AFP/Getty Images
One of the most thrilling parts of HBO's Luck is watching the Irish jockey Rosie ride. As played by the also Irish actress Kerry Condon, the friendly, spunky Rosie is an exercise girl (a rider who works the horses out) taking a shot at competing in races on the horse Gettin'up Morning, one of the best at the Santa Anita track. On Sunday's episode, Rosie will try to break a record at the track, at her own peril. Vulture chatted with Condon about how to be a female jockey, the pros and cons of whipping, and those euthanized horses.
What was your experience with horses before this?
I'm used to riding horses. My father used to breed horses when I was a child. I grew up in Tipperary, in the country, and lots of people have horses there. If my parents hadn't been in the business, we would have them anyway, as pets. And my cousin Richard is a jockey.
Did you consult him for the part?
I should have told him as soon as I got my jodhpurs, but I haven't spoken to him in years! [Laughs] He's all the way in Sweden, so it's easier to talk to the jockeys in Los Angeles. I have a trainer who used to be an exercise rider and she's also a girl, so that helps, because being a girl affects the way you sit on the horse: guys are a bit stronger in the arms, and our backsides make up for it. But all horses are different — sometimes they have a long neck — so you don't ride the same way on every horse. It depends on their body, and your body, but the object is to get down low so you're aerodynamic, so you call pull from the horse through the head. The best jockeys do that really well, and know how much to push.
Okay. So if Rosie already won one race with Gettin'up Morning without really pushing, why would she push when she doesn't have to?
I think it's because the first time she won, it was a little bit of a fluke — and the horse won, not her. She broke out of the gate last, so in the second race, she's sort of a young rider who overthinks it a bit. She gets anxious. The old man is like, "Let the horse win of his own accord," but she wonders, Is it in him? She's just thinking about being the best jockey, and winning, and her nerves get to her, so she makes a mistake. She's just feeling desperate. But she still won! [Laughs]
Do you think it's an issue of animal cruelty to use the whip?
Those horses are so big that when she hits the horse, it's not like, "Ow!" or in agony or anything — it just gives them the spring to go further. And it's sort of thrilling. But she does love that horse completely.
Two horses were euthanized during the production of the show.
I noticed that PETA was objecting or questioning that. I am an animal rights campaigner myself, and I donate money and time to those charities, but I think sometimes the problem with animal rights campaigners, including myself, is that we don't think about people's feelings, too. To be pointing a finger and blaming anyone for what happened is really disrespectful and mean to those who were taking care of those horses for their whole lives — from the grooms to the trainers to the owners to the jockeys and the exercise riders. They loved those horses, and they were so upset when it happened, but you don't hear about that. Death happens. It's nobody's fault. And these horses wouldn't have lived as long as they did if they were in the wild. It's really sad, but it's nobody's fault. And they take such good care of them. You should see how they take care of them. They are really loved. I mean, is the president of PETA up cleaning the stables at four in the morning? So let's just be sensitive to the people who are doing that.
Did you trade make-up tips with Sean Penn when you shot This Must Be the Place together? He looks like a goth rocker in that.
Yeah, I shot that between the pilot and the second episode of Luck, in New Mexico. But I was concentrating on doing a good job and keeping an American accent, so we never really spoke that much. He was also trying to stay in character, so it was for the best. [Laughs]
Does your Irish accent let you get away with murder?
Oh, my gosh. I guess it does. I guess I get away with being brutally honest or slightly rude, even, if someone's annoying. One time, I was pulled over for speeding. I was at the racetrack, and I was really riled up after getting off the horse, so I was imagining that my car was in a race. I wasn't even going that fast, but I was stupid, I had my cigarette in hand, and I was trying to do the ashes out the window, and I got pulled over. I just smiled and said I had completely made a mistake, and he let me go. [Laughs]