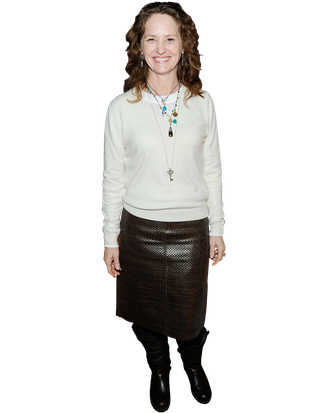 Melissa Leo.
Photo: Frazer Harrison/Getty Images
Melissa Leo plays a fresh-out-of-the-clink loner seeking comfort in her growing collection of semi-feral pets in Francine, an elliptical microbudget drama that just had its world premiere at the Berlin International Film Festival. The role marks a new path in Leo's career, and even though it's not the first time she's played a down-and-out character, it's definitely the first time she's munched on kibbles and sucked on a kitten's paws. First-time directors Brian M. Cassidy and Melanie Shatzky knew it was a "stroke of good luck" that they were able to rope in such a respected lead actress, but Leo maintains that she was equally lucky in having the opportunity to work with them, as it gave her an opportunity to carry an entire film on her own. Her performance is absolutely devastating. We chatted with Leo about her new film, the plusses and minuses of playing alcoholic and destitute characters, and acting without vanity.
This is the debut feature for both of the filmmakers. How did you wind up in this film?
I took this movie without knowing if anybody would ever see it. It was a month at home in the Hudson Valley shooting. It was hard. I couldn't believe it when I finally saw it — it's a beautiful fucking movie. The Hudson Valley Film Commission is run by the same people who run the Woodstock Film Festival, and it was posted there that they were looking for a woman for this extraordinary-sounding story, a woman who would be carrying the film without much dialogue. I said, "Hey, do they have lead yet?" I also had the opportunity to improvise a lot, which led to some beautiful moments  — when I sucked on the kitten's paws, for example. I cringed when I did that, because nobody had cleaned the kitten's paws, because nobody knew I was going to suck on them. But it came so naturally.
You often play haggard, desperate, world-weary, or alcoholic characters: in The Space Between, Frozen River, The Fighter, and even your new film, Predisposed. Do you think you're being typecast?
There's a fair amount of that haggardness. Alice Ward from The Fighter certainly knocked me up into the age bracket twenty years beyond myself, but that's okay — I'll do whatever. But there is something that happened when I was a much younger actress. I had done Streetwalking, and a film about a famous rape case where a woman was gang-raped in Rhode Island on a pool table, with witnesses. And a friend of mine said, "Melissa, you're playing a lot of victims." And I never did anything about it except notice it, and maybe change my thinking. People talk consistently about a strength in characters that I have: a many-sidedness that all people have that darkens the light selves in them. Maybe my friend's comment made me back away from the victim in myself, and seek the characters strength no matter how weak or — like Francine — desperate.
So it's less about appearances, in a way.
I play who the character is, is what I do. I don't see her and go, "Oh, you want me looking ratty." In Frozen River everybody said, "Oh, you have no vanity." Well, maybe I don't. I think my mother made sure of it. She didn't teach me to shave my legs, but she did insist I walk without vanity.
Do you think vanity gets in the way for a lot of actors?
I don't know that it's the thespians' own sense of vanity, but rather the idea of it. Ever since Marilyn Monroe was transformed from one of the prettiest girls you could ever hope to see into an icon, everyone has been trying to repeat that icon. And now the entire industry is filled with, and by and large run by, wannabes. And bless their hearts; I'm glad they have jobs.
So it's not really their fault, then.
That kind of getting-in-the-way because of "business as usual" happens from the inception of the idea, through the edit and the release of the film. Nobody's in charge of any of it. So if it ever comes up, this thing about vanity, I will not throw my fellow thespians under the bus. It's a machine we're all in, and we don't have much control over it. I had a bad experience in the hair and makeup trailer when I was shooting Predisposed. I knew what I wanted. I said, like, a rocker, and they showed me all these girls from the eighties, and I said, "No, no, no, like a boy rocker. But the hairdresser didn't even know how to cut hair. It was all wrong. The directors come in and say, "Oh, it looks great, Melissa!" And that was that. Had I just gone to the Village two days before, and cut my hair, I would have had it how I would.
There are a lot of actors who are known for not being vain, and people sort of put them on this pedestal, which I think is tricky. 
It is tricky. Our face is a very important part of our tool, so upkeep is important. My body has done for me all these years things I couldn't ever even dreamt to do for characters. It's a tool, molecularly speaking, and I need to take care of it. The very worst thing I do is smoke cigarettes. I really don't drink, but not because I'm some fussy bitch. I just don't like it.
Do you plan on doing more low-budget films like Francine?
I do get a fair amount of scripts; I got Frozen River kinda just that way. I have a hard time turning my back on anybody who says they have something for me. In the coming year, I want to take more roles in little tiny independents like Francine where I really get to carry the ball. More so than other work I've done in the past, which has been a handful of aiding and abetting, you know. I want to explore this very young medium of film, and with very new and inexperienced people.