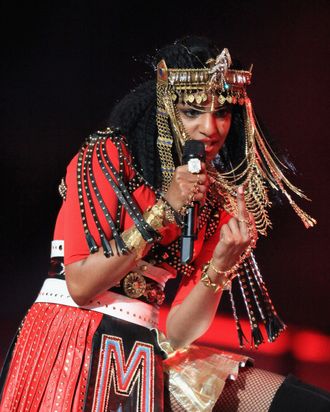 M.I.A. performs during the Bridgestone Super Bowl XLVI Halftime Show at Lucas Oil Stadium on February 5, 2012 in Indianapolis, Indiana.
Photo: Christopher Polk/Getty Images
When imagining all the many possible "obscenities" that might occur during the Super Bowl halftime, Vulture didn't even put the middle finger on the list. Too obvious, we assumed (you'd really have to try to flash that bird) and a little underwhelming (if you're going to sign up for the Super Bowl to stage some kind of capitalist protest, you might as well go big). As you certainly saw last night, we were wrong! M.I.A. picked her moment — right when the censors bleeped out the word shit — and threw a fuck-you sign for all to see, just because she is M.I.A. and why not, at this point. Predictably, NBC has issued an apology, calling the incident "completely inappropriate and very disappointing." Oh, and here's the middle finger in GIF form, in case you hadn't had that pleasure yet.