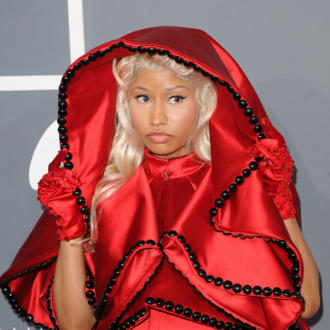 Singer Nicki Minaj arrives at the 54th Annual GRAMMY Awards held at Staples Center on February 12, 2012 in Los Angeles, California.
Photo: Jason Merritt/Getty Images
Funkmaster Flex debuted the latest single from Nicki Minaj's Pink Friday: Roman Reloaded last night, and if you've been curled up in the corner hiding ever since last week's "Starships," then you can come out now: "Roman Reloaded" isn't another radio grab. It's not "Monster," either (when will we all agree to let Nicki off the hook for that one? It can never be again), and it's saddled with some unimaginative rhymes, approximately 800 million "Bangs," and less-than energetic delivery. Nicki spends the first verse dissing anyone and everyone who ever dared to compare "Super Bass" to pop, then goes on to acknowledge that bizarro Grammys performance and last week's Hottest MC list. This was recorded in the last five to seven days, we'd guess? Weezy hops on at the end, and there's also a convenient reference to Nicki's upcoming appearance in Ice Age 4: Continental Drift, in case you weren't convinced of her cultural dominance.  Ice Age, everyone! She plays a woolly mammoth.  This should be big.