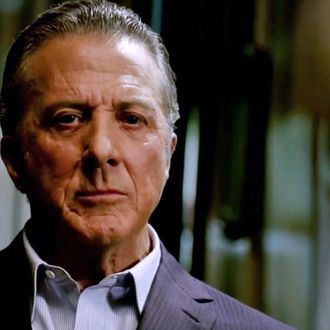 If you're still watching HBO's Luck every Sunday night at 9 p.m., consider yourself a member of an extremely small club. Despite many stellar reviews, an amazing pedigree, and the typically lavish HBO marketing campaign, David Milch's latest drama is shaping up to be anything but a Nielsen stud. Since debuting last month to a modest 1.1 million viewers, the show has since struggled to attract 500,000 viewers during its initial 9 p.m. Sunday broadcasts. This week's episode, opposite the Oscars and the NBA All-Star game, drew 501,000 pairs of eyeballs, failing to crack Nielsen's list of the top 100 prime-time cable broadcasts. Amazingly, this number actually represented an improvement over the February 19 episode, which was seen by 445,000 total viewers. The show's post-premiere high came on February 12 (549,000); its low was opposite the Super Bowl on February 5 (425,000). These numbers are down sharply from Milch's last HBO drama, John From Cincinnati, which drew a bit less than 1 million viewers by the time its season/series finale aired in summer 2007. And they're slightly below the tune-in for HBO's other little-watched (but highly praised) drama, Treme, which attracted over 600,000 for its most recent season finale. The good news for fans of Luck is that, at least for now, these ratings don't really matter.
For one thing, HBO has already renewed Luck for a second season; barring a change of heart, the show will be back for at least one more race. There's also a chance Luck could grow as its run goes on. Game of Thrones saw its numbers leap up by 40 percent from its premiere to its finale last spring, and HBO insiders no doubt hope that as episodes pick up the pace in coming weeks, ratings for Luck will follow. It's also worth noting that Luck isn't doing nearly as poorly when you add up its overall viewership over HBO's multiple platforms. If you combine the multiple same-week repeats of the show, DVR replays, and those folks who watch via video on demand or HBO GO, the network says Luck is pulling in around 5.5 million viewers every week. That's far more respectable, and not far below the all-inclusive numbers HBO cited for early episodes of Game of Thrones.  

While broadcast and cable networks don't benefit as much from these platform plays, since advertisers pay only for viewership that occurs within three days of an episode's premiere, HBO doesn't have advertisers. If it feels its subscribers are finding a way to watch Luck, and the TV Academy validates the generally positive critical reviews with a slew of Emmy nominations this July, then the tiny same-day viewership for Luck will not necessarily result in the show being sent to the glue factory after season two.