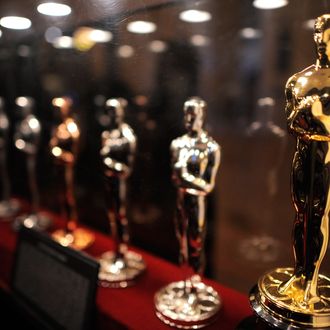 The Oscar Statue production display at the Meet the Oscar Exhibit at Grand Central Terminal on February 27, 2011 in New York City.
Photo: Jemal Countess/Getty Images
While the identity of the 5,765 voters in the Academy of Motion Picture Arts and Sciences — the Oscars jury, if you will — is top secret, a study by the Los Angeles Times at least provides us a demographic profile of the surprisingly non-representative group. They are mostly white (94 percent), male (77 percent), older (median age of 62), and live in and around Beverly Hills. Most have, themselves, never been up for an Oscar — only a third had been nominated at some point in their careers. Disappointingly, blacks and Hispanics combined make up less than 4 percent of the ranks, which makes the American movie industry considerably less diverse than the moviegoing population. Its voting record is similarly mismatched: Only 4 percent of acting awards it has handed out have gone to African-Americans, and the freeze-out of female directors only ended the year before last, with Kathryn Bigelow's historic win. As for the Academy efforts to reach out to under-represented groups (women and minorities, mostly), the academy's more or less lifetime memberships mean any real change will either take decades or require the pool of voters to expand considerably.