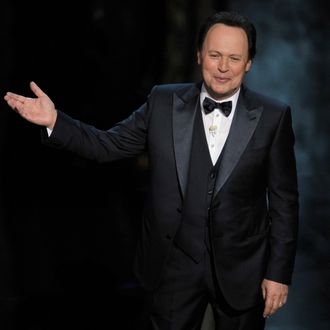 Host Billy Crystal performs onstage during the 84th Annual Academy Awards held at the Hollywood & Highland Center on February 26, 2012 in Hollywood, California.
Photo: Kevin Winter/Getty Images
So … what'd you think? Boring-boring or regular-boring? Who got snubbed? What bits worked (Emma Stone!) and what bits failed (blackface!)? What did you learn about yourself during the Cirque du Soleil performance? If you could change or fix one thing about the ceremony, what would it be? Let's hear it: What did you think of last night's Oscars in one pithy, perfect sentence?