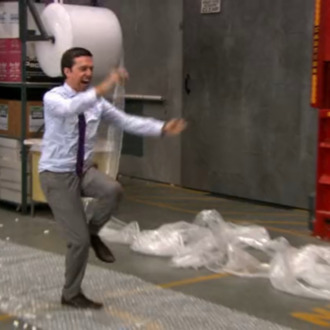 Overlap watch! Thursday night shows commonly share a joke or two by coincidence, and last night's network lineup was no exception. 
In which pizza is more important than it should be: Liz Lemon asked "may I please speak to pizza" during her fake-out phone call on 30 Rock, and on Parks and Rec, Leslie Knope had "P-Hut" in her phone — which didn't get strange until she asked the Pizza Hut employee who answered the phone if he was "hot."
Bubble Wrap: Andy danced on Bubble Wrap on The Office, and Penny gamely offered Bubble Wrap as a pathetic form of entertainment during a blackout on Big Bang Theory.
Ugh, babies!: Grey's Anatomy's "alt" episode — a dream sequence in which everything was charmingly different — featured Callie and Owen trying to wrangle their little girl and two screaming toddlers, much to the horror and irritation of those around them. On The Office, Pam and Jim faced a similar nightmare, with a wailing toddler and a fussy infant. Both shows emphasized the logistical nightmare of pushing a stroller and keeping track of an ambulatory, unhappy older child, and also that other people look at the parents of toddlers and think, There but for the grace of God.
Surely Community could have covered all of these bits in a broad satire of the concept of network television, wrapped in an homage to Annie Hall. Oh well.