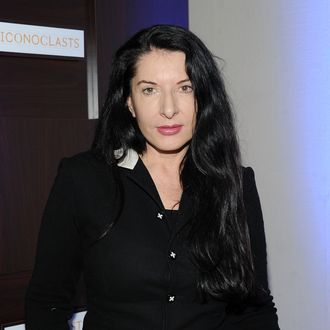 Marina Abramovic
Photo: Jamie McCarthy/Getty Images
Marina Abramovic signed a deal with architect Rem Koolhaus earlier this week to design and construct her Center for the Preservation of Performance Art in Hudson, New York. The Serbian art superstar will seek to raise $8 million to pay for the project, she revealed Tuesday night to a group of art collectors at a panel at Manhattan's tony Core Club, and the museum will be devoted to performance art pieces of "six hours minimum." Some of them will go on for days.
Abramovic purchased a cavernous former tennis center "only two hours" from the city four years ago, with the intent to turn it into a museum and theater. But other projects put its development on hold, most notably the artist's 2010 Museum of Modern Art retrospective, "Marina Abramovic: The Artist Is Present," in which she sat motionless for 700-plus hours. Now she's ready to go forward, she told the collectors. She's also meeting with Hudson's town mayor, she added, to advocate for construction of a hotel for art-world types and fans who head north. 
At the future museum devoted to marathon pieces, viewers will watch in specially constructed chairs complete with wheels, tables to dine upon, and lamps. If they fall asleep, "the attendant will roll you to the sleeping area" of the theater, she said, but sleepers will still be considered part of the performance. "When you wake up, raise your hand and you'll be wheeled back," she promised. 
Hudson, New York, and the surrounding region southeast of the Catskills, is already something of a serious art-world hangout, with several expat galleries in town. It was the site of a New Art Dealers Alliance art fair last summer (not to mention the headquarters of the last century's "Hudson River School" of painters and painting). Abramovic used the Hudson property to rehearse the performers who reenacted, at MoMA, historic performance pieces from throughout her career. Students at the completed center will be trained in the "Abramovic method" of viewing performance art; observing these pieces, she says, takes a certain mind-set and skills, just as the Stanislavski method teaches the mind-set and skills needed to act.
But attendees should not worry their time will all be spent on serious contemplation of art. "I am the best dirty joke teller ever," she bragged.