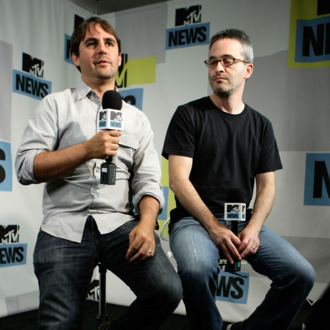 Roberto Orci and Alex Kurtzman
Photo: Jerod Harris/Getty Images
Late last night, Roberto Orci – who, with Alex Kurtzman, make up one of Hollywood's most successful franchise scriptwriting teams (Transformers, Star Trek) – Tweeted, "After a wonderful five years with DreamWorks, K/O Paper Products is excited to be an independent production company in the coming year!"
This was surprising, as just last October, the news had broke that the two J.J. Abrams protégés were in talks to move their production company, the cheekily-named Paper Products, from DreamWorks to Skydance Productions, the deep-pocketed Paramount partner funded by billionaire Oracle scion David Ellison. Vulture has learned that that deal fizzled out this month after Ellison (whose new company had back to back hits with True Grit and Mission: Impossible – Ghost Protocol) realized that while he was happy to have the talented team write movies for him – such as the Star Trek sequel – he didn't need them as creative partners as much as he once thought.
When the Kurtzman-Orci/Skydance talks were first announced, it raised eyebrows. Hadn't DreamWorks just bankrolled Kurtzman's directing debut, the dark family drama Welcome to People (which he'd co-written with Orci)? Wasn't it furnishing them with a rich first-look deal with $2 million in overhead? But then again, the long-time writing pair were already deeply entrenched with Skydance, a major player at Paramount. (Ellison's company came to the studio's rescue in August 2010 after the studio lost a quarter of a billion dollars in moviemaking funds from Deutsche Bank when it got walloped by the 2008 sub-prime mortgage meltdown. Now Skydance has the option to co-finance any film on the Paramount slate, and vice-versa.) K/O are producing and writing Skydance's Star Trek sequel and developing its big-screen version of Tom Clancy's bestseller, Without Remorse, with The Shield creator Shawn Ryan adapting the screenplay.
Soon after the Skydance talks came to light last fall, Vulture was told by well-placed DreamWorks insiders that Ellison's proposition to lure K/O away would make DreamWorks' terms seem puny: The two men were to become "anchor tenants" at Ellison's nascent company, serving as its go-to producers for film and TV in the same fashion that Disney looks to the prolific Jerry Bruckheimer. (Kurtzman and Orci have a proven TV track record: The pair co-created and produced Fringe and served as executive producers of CBS' rebooted Hawaii Five-O.)
But instead of sealing the deal, Ellison wound up backing away as he realized a few compelling factors. First, the duo were incredibly busy on their own projects, some for Skydance itself. The overbooked pair had been forced to work feverishly on the Star Trek sequel script through Hollywood's near sacrosanct Christmas and New Year's two-week shut-down in order to get it ready for a January start, because Kurtzman had been too occupied with shooting and editing Welcome to People for much of 2011. They're also still executive producing Hawaii Five-O. So if they were already very busy with the projects they had in development with Ellison and others, expecting even more from them would likely not be a good bet.
And then there was the fact that Kurtzman and Orci have proved much more successful when burnishing old material for reboot than when either coming up with new ideas or translating a little-known concept from another medium, like graphic novels. Cowboys & Aliens, which they co-produced and co-wrote, lost an estimated $100 million for DreamWorks and Universal. In January of last year, K/O proudly announced a new project they'd be producing, an adaptation of Orson Scott Card's 1985 sci-fi novel Ender's Game that was written and to be directed by Gavin Hood (2009's Wolverine), but no major studio bit, including Skydance. (It was eventually greenlit by Summit after they cobbled together financing from the international marketplace.) Last season, neither of K/O's two original TV pilots – the Mark Romanek-directed Locke & Key at Fox and ABC's Exit Strategy starring Ethan Hawke – were ordered to series. And Welcome to People, a small-scale drama worlds from the partners' usual big-scale action films, has been finished for half a year, in plenty of time for Oscar season, but DreamWorks held it back. Just last week, however, Orci tweeted that it would be out this summer (he self-awarely wrote, "Will all of u who think all we know how to do is rip off old concepts wth explosions give us a chance and see WELCOME TO PEOPLE this summer?"); the studio confirms this release but says the actual date is yet to be determined. Insiders say Disney, which distributes DreamWorks' films, has been seeking a way out of its commitment to release the dysfunctional family drama, which is about as far away from its Muppets/Pirates/Marvel Comics axis as it gets. (A call to Kurtzman and Orci for comment was not returned by deadline. Ellison, through a spokesman, declined to speak.)
All of this likely gave Ellison pause, and got him wondering why he needed them as pricey partners when he was already in business with them on sure-fire projects. After all, hadn't he gotten his sea legs on his own? The 29-year-old producer had financed and produced the Oscar-nominated remake of True Grit in 2010, and went on to back the newly-resurgent Mission: Impossible franchise with last year's Ghost Protocol (currently cresting $670 million in worldwide grosses). He is also executive producing the Star Trek and GI Joe sequels at Paramount, as well as producing One Shot, another Tom Cruise film based on the popular "Jack Reacher" crime novels by British writer, Lee Childs (Jim Grant).
Insiders say relations between the three men on the set of Trek sequel are fine, with one calling things still "jovial," and so "it's possible they'll partner on movies together when the situation [is] warranted." Currently, however, there are no other K/O feature film projects known to be on the docket at Skydance. But somehow we suspect that the men behind two of the most successful franchises of the last decade won't have too much trouble finding someone willing to beam them aboard.