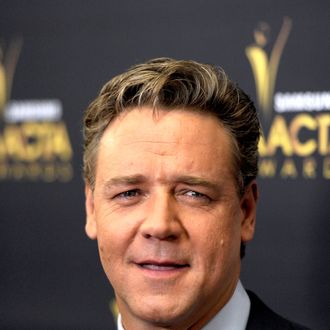 Russell Crowe
Photo: Frazer Harrison/Getty Images
Our spies tell us that Warner Bros. is in talks with Russell Crowe about starring in Harker, a reimagining of Bram Stoker's Dracula that's being produced by Leonardo DiCaprio. It tells the vampire story from the point of view of Jonathan Harker, who — instead of his traditional role as a lawyer — is now a Scotland Yard detective investigating the Count's string of grisly murders in England.
The project (co-written by Lee Shipman and Vulture contributing vampire expert Brian McGreevy) began gathering steam at Warner Bros. around this time last year, when director Jaume Collet-Serra (Unknown, Orphan) became attached. But just a few months later, Warners had other plans for the Catalonian, hiring him to oversee Akira after director Albert and Allen Hughes struggled with casting the remake of Katsuhiro Otomo's anime classic. Then Akira ran into budget issues and was put on ice as the studio struggled to contain its cost. Now we hear the plan is to try and make Harker happen first, then have Collet-Serra turn his attention to a more modestly budgeted Akira.
As to Crowe, talks have only just begun, and in any event Australia's favorite son won't be available for some time: He's just started production on Tom Hooper's update of Les Miserables (playing Inspector Javert) and Crowe has been fairly blunt about the fact that he's giving serious thought to following it with Darren Aronofsky's Noah, about the antediluvian patriarch. Of course, that's provided Noah gets its financing together. The Biblical project has been — forgive the pun! — treading water as New Regency gathers the considerable financing for a movie that must, after all, drown the entire planet.
We'll keep you updated, but in the meantime, feel free to keep watch on Russell's Twitter feed. Lately, the big man has been answering questions directly about what he's considering doing next.