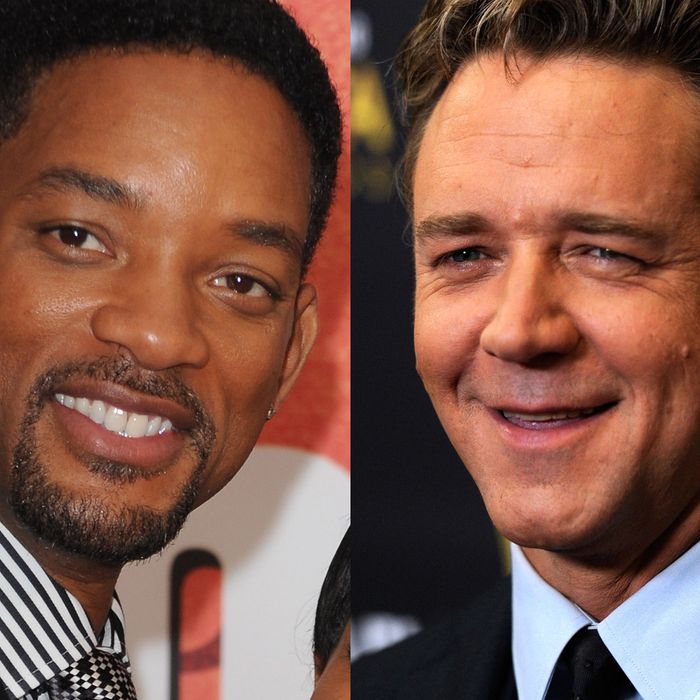 Will Smith and Russell Crowe will help Akiva Goldsman get
Winter's Tale
made.
Photo: Pascal Le Segretain/Getty Images, Frazer Harrison/Getty Images
Oscar-winning screenwriter Akiva Goldsman (A Beautiful Mind, I Am Legend) had been trying to get his directing debut off the ground for years: An adaptation of Mark Helprin's 1983 magical-realism novel Winter's Tale. Vulture has learned that things finally seem to be moving ahead on the stalled project at Warner Bros. (news of which broke exactly one year ago today) after, our spies say, Goldsman "called in every favor he had" and landed Russell Crowe and Will Smith, both stars of his previous work, in supporting roles.
Set in both nineteenth-century and present-day Manhattan, Winter's Tale is about a petty thief who falls in love with the dying girl who inhabits the house he's just burgled and the gangster boss bent on killing him. (Oh, and did we mention there's also a white, flying horse?) We hear Crowe is in negotiations to play Pearly Soames, the gangster boss, while Smith would appear in the film as a judge. The lead roles of the thief and the little girl still have not been cast.
The film had been languishing at Warner over financial issues — as you might expect with a book that features an angelic white horse that can actually jump five New York City blocks at one go — but we now hear that between Goldsman shaving some $20 million off the original budget and landing both Crowe and Smith, the film is likely to take flight (just like a flying horse!) and begin shooting as early as September or October of this year.