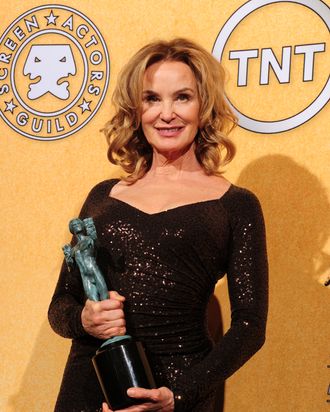 Jessica Lange holds the award for best actress in a drama series for her role in 'American Horror Story' in the press room at the 18th Annual Screen Actors Guild Awards at the Shrine Auditorium in Los Angeles, California on January 29, 2012.
Photo: FREDERIC J. BROWN/AFP
Ryan Murphy confirmed last night that Jessica Lange will appear on the second season of American Horror Story. Phew! He told terror elf Andy Cohen on Watch What Happens Live that Lange would be back in some capacity, though he did not expound on what that capacity was. Murphy also squeezed in a dig at the Glee cast during WWHL's "plead the fifth" bit: When asked who the most difficult guest star has been, Murphy paused. "You know, the guest stars are never difficult," he said pointedly. Oh, Ryan Murphy.
Related: Next Season of American Horror Story Will Be in a Whole New Haunted House