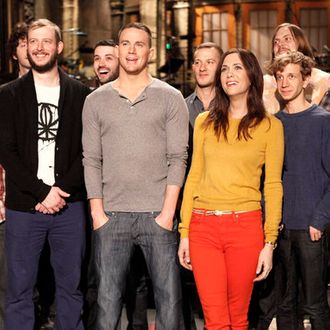 Channing Tatum, getting prepped for
Saturday Night Live
.
Photo: Dana Edelson/? NBCUniversal, Inc.
We know Channing Tatum can dance, because he's done it in movies like Step Up and in that one grainy video on the web from when he was a stripper, and we know he can act, at least in movies that require him to look like he works out a lot. We're not as sure that he can deliver a punch line, and with his comedic feature-film adaptation of 21 Jump Street about to premiere, this is important information his potential audience needs to know. Therefore, a lot is riding on his Saturday Night Live debut tomorrow. (Bon Iver is the musical guest.) What will producers give Tatum to do? We don't know, but we can guess.
11:29 p.m. Cold Open: Mitt Romney (Jason Sudeikis) tries to clarify what he meant when he said he wasn't concerned about the very poor, though it quickly becomes clear that instead of a chair, he's sitting on a destitute American.
11:35 p.m. Monologue: Channing Tatum tries describing his collaborations with Nicholas Sparks — Dear John and the upcoming feature The Vow — as the camera cuts to women crying uncontrollably (and, finally, one man, played by Bobby Moynihan).
11:38 p.m. Commercial Parody: Following the great response to his brief performance of Al Green's "Let's Stay Together," President Obama (Fred Armisen) releases an album of covers, including "Midnight Train to Georgia," "Stray Cat Strut," and "Love Shack" — on which Joe Biden (Sudeikis) delivers the "tin roof … rusted!"
11:40 p.m. On Watch What Happens Live, Andy Cohen (Taran Killam) welcomes as his guest the Fear Factor contestant (Tatum) whose donkey-semen-drinking stunt NBC will not air. They are then joined by Jackee (Kenan Thompson), and the three quickly get drunk.
11:48 p.m. Tatum (as himself) appears on an Italian talk show hosted by Vinny Vedecci (Bill Hader).
11:53 p.m. Digital Short: Tatum (as himself) does stomach crunches in various unexpected New York City locations.
11:55 p.m. Commercial Parody: Matthew Broderick (Hader) stars in a car commercial in which he revives the character of Ferris Bueller, who's failed to get Cameron (Killam) out of the pool in time and now needs a roomy vehicle in which to transport the body.
12:02 a.m. In What Up With That? Tatum appears as a hip-hop dancing partner, dressed in a red Adidas tracksuit identical to Jason Sudeikis's.
12:09 a.m. Bon Iver performs.
12:16 a.m. Weekend Update features visits from Madonna (Kristen Wiig), who previews her Super Bowl halftime show; and from Newt Gingrich (Moynihan), who tries anew to drum up support for his moon colony idea.
12:29 a.m. In honor of Black History Month, a dramatic retelling of the first dancer (Jay Pharoah) to integrate Chippendales.
12:33 a.m. Commercial Parody: The NBC announcer makes all sorts of outlandish and inaccurate promises about the content of the network's new series, Smash.
12:38 a.m. Ex-con Lorenzo McIntosh (Kenan Thompson) visits a police station to deliver a Scared Straight lecture, accompanied by a fellow ex-prisoner who'd been incarcerated for insider trading (Tatum).
12:45 a.m. Bon Iver performs
12:51 a.m. Sketch: The day after Groundhog Day, Punxsutawney Phil (Moynihan) tries to enjoy a beer at a local bar, only to be abused by fellow customers for having seen his shadow.
12:56 a.m. Backstage at the show, Tatum (as himself) has to field increasingly probing questions from an inquisitive Vanessa Bayer (as herself) about the time, on the set of The Eagle, that he burned his penis.
1 a.m. Good night!