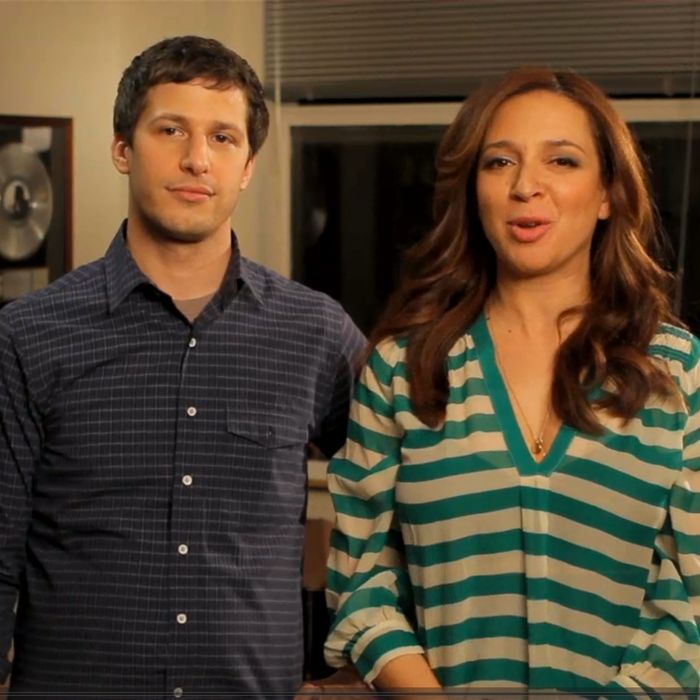 This time last week, I was pretty sure I could guess at least ONE character former SNL cast member Maya Rudolph would do when she returned to the show for her first appearance as guest host: Given the rumors swirling about possible judges next season on The X Factor, surely Rudolph would have to revive her impersonation of Whitney Houston. Some commentators have mused about ways SNL could tastefully address Houston's passing; I have a feeling that it's still too soon. Besides, Rudolph has a plethora of other characters she could play.
11:29 p.m. Cold Open: Rick Santorum (Andy Samberg) attempts to explain his strict objections to contraception, but finds it impossible to do without making his descriptions of acceptable sexual behavior accidentally pornographic, and gets no help from SuperPAC head Foster Friess (Bobby Moynihan), whose ideas about contraception are eccentric at best.
11:35 p.m. Monologue: Host Maya Rudolph takes questions from the audience, who don't seem to have realized that she ever left the show.
11:38 p.m. Commercial Parody: In a spoof of the Allstate* ads, insured drivers speak not in the reassuring tones of Dennis Haysbert, but the slightly less confident voice of alternate spokesperson Lil Wayne (Jay Pharoah).
11:39 p.m. Bronx Beat hosts Betti (cameo by Amy Poehler) and Jodi (Rudolph) interview a local fashion blogger (Vanessa Bayer) about her experience at New York Fashion Week, but quickly get distracted from their questions.
11:48 p.m. At ESPN, a group of SportsCenter producers brainstorm as many puns on Jeremy Lin's name as they can think of.
11:56 p.m. The hosts of Fox & Friends (Taran Killam, Bayer, and Moynihan) interview Nicki Minaj (Rudolph) about her controversial performance at the Grammys, and will not be deterred from their scolding by her reminder that Chris Brown also performed on the show.
11:59 p.m. Digital Short: The Laser Cats are pitted against an evil alien queen (Rudolph).
12:04 a.m. Sleigh Bells performs.
12:11 a.m. Weekend Update features a defiant Newt Gingrich (Moynihan), explaining why he has no intention of dropping out of the Republican primaries; and a gay couple from Washington (Armisen and Bill Hader) talking about their forthcoming wedding.
12:25 a.m. Prince (Fred Armisen) tries to host The Prince Show as he's always done, but his sidekick Beyoncé (Rudolph), as an exhausted new mother, has a hard time being her usual sexy self.
12:31 a.m. Commercial Parody: Donatella Versace (Rudolph) drunkenly shills her latest fragrance.
12:36 a.m. Barack Obama (Armisen) gets jealous when Michelle (Rudolph) starts hugging everyone who comes through the White House.
12:44 a.m. An ABC promo for the Academy Awards telecast tries to position host Billy Crystal (Killam) as "hip" and "with it."
12:49 a.m. Sleigh Bells performs.
12:54 a.m. At home with her iPad in front of OWN, Oprah Winfrey (Rudolph) tries to drum up interest in her network by sending her Twitter followers increasingly desperate tweets.
12:59 a.m. Good night!
*Corrected to show that, of course, Dennis Haysbert does the voice for that other insurance company with the word "state" in its title, Allstate, not State Farm.