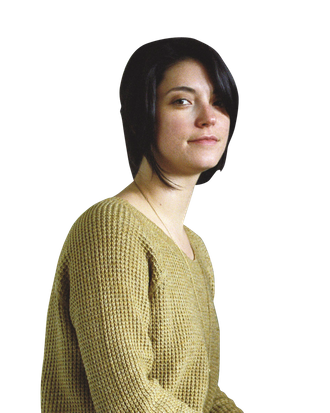 Sharon Van Etten.
Photo: Dusdin Condren
Today, Sharon Van Etten releases her third album in roughly the same number of years, Tramp. Produced by the National's Aaron Dessner and recorded sporadically over a fourteen-month period — while Van Etten was couch surfing, touring, and subletting here and there — the finished product is the singer-songwriter's most expansive and aggressive LP yet. We spoke with Van Etten about working with Dessner (and a slew of guests, including Beirut's Zach Condon), lyrics as therapy, and the musical appeal of grunting.
Why were you recording, as you've said, "without a home"?
I was touring so much that I decided to not keep an apartment in New York. I just toured like a crazy person and all my off-time was spent crashing at friends' houses. When I overstayed my welcome, I'd get short-term sublets and I'd work in the studio with Aaron [Dessner of the National]. We didn't really have any off-time. It was intense.
What was your recording relationship with Aaron like?
Oh, he's a jerk. [Laughs.] No, he's one of the nicest people I've ever met. He really understood my songs and the potential as to where they could go, whereas I was always really safe and never tried to flesh stuff out before. I tried to keep it pretty tame most of the time, because I didn't ever want to overproduce something that I couldn't reproduce live. But I learned from him that a record is a completely different beast than a live show and the fun part is figuring out how to do it live. That's the challenge. So he encouraged me to do as much as we could in the studio, because we could always tone it down. We could always delete tracks. The studio is a time when you can do anything that you want to. You have that freedom.
How long before the album started to take some shape?
That's a dangerous question. I would say, maybe six or seven months in. It took us a while to get into a groove. But we also worked on sixteen songs, so I had two different records. If we used the songs we started with, it'd be a much slower, more minimal classic country record — if I chose certain songs to center the album around. But then we got to the song "All I Can" and that changed the direction of the other songs, and we didn't end up keeping the songs in the beginning.
You've done so much work for other musicians over the years, so what's it like having artists come to you?
It was really fun! Because you're calling in people whose voices you really admire. I'm not very good at directing people and telling people what to do, but the whole point was that I wanted them to show off their strength. And they understand my songs; most of the people I worked with were so intuitive that I didn't have to tell them what to do. They could interpret the song, and submit to it, you know? Without me having to tell them what to do, most of the time.
So people just brought in their own ideas?
Yeah. Jenn Wassner [of Wye Oak] came in one day when she was in town and I played her some of the songs and said, "Anything you want to sing on, just do whatever you want because I really love your voice." I was tired of hearing mine, and it's fun to sing with her anyway, because we have a similar range. She did the song "In Line," and her first instinct was that she just wanted to grunt all over it. I was like, "Really? You just want to grunt?" And she was like, "Yeah, I just want to grunt everywhere." So I was like, "All right, go for it, man!" And so she set up, sat on the floor, hooked up a mike, reverbed out an amp, and just did a few takes of that for the song "In Line" and it really, really built the intensity of that song really well. It's not something intuitively that I would've added, but I think that was really personal to her and it was great.
You've said that writing lyrics for your previous albums was good therapy and gave you confidence. Is that still the case?
I think I'm allowing myself to show more than one emotion now, where usually my stream of conscious was always sad. Now I'm not afraid of showing being angry, or even being happy in a moment, you know? Just letting yourself talk about your emotions is so important. I started writing for myself when I didn't know how to understand how I was feeling, and I didn't know how to talk to people about it, so I would break into the subconscious to try and understand what I was going through. Now I'm seeing a lot — admitting blame, not blaming other people, letting myself be angry, being more confident in the mistakes that I've made, and kind of owning them a bit more than I have in the past.
How personal are the lyrics? I'm thinking of a line in "Give Out": "You're the reason why I moved to the city or why I'll need to leave."
I realized that there's this fine line between being personal and being general and being alienating. I always write from a personal place — whether it be about my friends or myself or a story that I heard. [But] I don't want to tell people that this is all stuff that's very unique to me, that's happened to me, and don't even try to understand. Why would I share that with somebody?