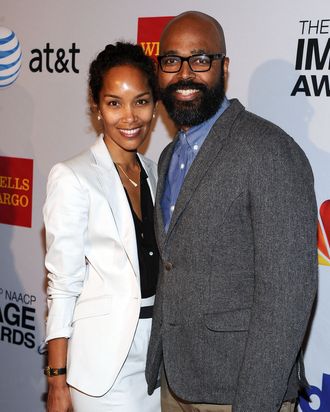 Mara Brock Akil and Salim Akil arrive at the 43rd Annual NAACP Image Awards Nominees' Luncheon at The Beverly Hills Hotel on February 11, 2012 in Beverly Hills, California.
Photo: Angela Weiss/Getty Images
The Game creator and producers Mara Brock Akil and Salim Akil have a new pilot at BET. The husband-and-wife pair is working on Single Black Female, an hour-long series about an Atlanta talk-show host, à la Ellen, Deadline reports. The show does not appear to have anything to do with obsessive identity-imitating roommates, but never say never! Brock Akil is among TV's most consistent — and consistently popular — creators of black female comedy, but the pair's upcoming movie will probably be higher profile than their other work: She wrote and he directed Sparkle, Whitney Houston's final project.