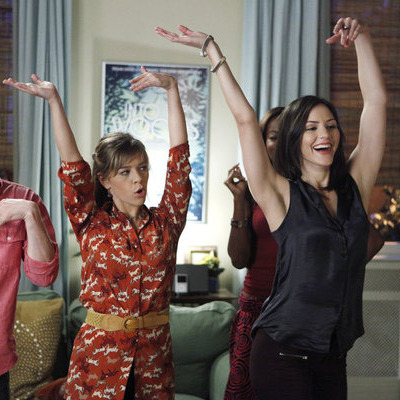 Wesley Taylor, Savannah Wise and Katharine McPhee on Smash.
Photo: NBC/2012 NBCUniversal, Inc.
Smash is not the most important show on NBC's schedule right now (that would be The Voice), but it is the series whose fate has been most under the microscope at the Peacock as of late. After a solid start earlier this month, the show's Nielsen numbers took a dive in its second week (expected), then dropped some more (worrisome). But this morning, it would not surprise us if certain Peacock execs were blasting Katharine McPhee's version of "Beautiful" in their cars this morning as they drove to work. That's because Smash finally stabilized in the ratings with Monday's fourth show, and if the numbers hold up when final data is released later this afternoon, the musical soap actually looks like it upticked by 6 percent in overall tune-in (from 6.5 million viewers to 6.9 million this week). Conventional TV wisdom holds that most new shows find their Nielsen bottoms by their third or fourth weeks on the air. So if this is where Smash is going to end up, has it done well enough to ensure its survival for a second season? We're going to go out on a limb and say: Yes.



Last night's Smash performance was notable for a couple reasons. First, the show managed to go up in overall audience and among the key demo group of adults under 50 despite the fact that its powerhouse lead-in, The Voice, dropped 10 percent week-to-week. While Smash is still doing a lousy job holding on to its big lead-in, Monday's numbers suggest the drama has found a base audience of 6 to 7 million viewers. Given the number of NBC series struggling to reach even 5 million pairs of eyeballs, that's pretty good. Moreover, Smash came within one tenth of a ratings point of tying CBS's Hawaii Five-O for first place at 10 p.m. among viewers under 50, while easily beating it (and ABC) with women under 50 and all viewers under 35. And compared to the other 10 p.m. dramas in prime time right now, Smash's 2.4 demo rating puts it on a par with ABC's buzzy hit Revenge, and ahead of stalwarts such as Private Practice and Law & Order: SVU. There are also early signs, according to NBC insiders, that suggest Smash is doing particularly well with high-income viewers — a group advertisers pay a premium to reach, given their added purchasing power.

All of this is not to suggest that Smash is a smash hit, or even out of the woods. The big lead-in from The Voice is giving the drama a big weekly cushion, and for most shows, losing more than 50 percent of a lead-in is considered a failure (particularly since Smash was genetically engineered to be compatible with The Voice). Trouble could also come in the weeks ahead: The Voice ended its blind audition rounds last night, and if last season is a guide, its ratings will take a hit over the next few weeks. While Smash held up well this week when The Voice declined a modest 10 percent, if NBC's singing show suffers serious slippage in the weeks ahead, it could take a toll on Smash. (On the bright side: Hawaii Five-O is in repeats for the next two weeks, while Castle is a rerun next week.)

Back before Smash debuted, we outlined three scenarios for the show's future: Big hit, Lone Star–style flop, or okay-but-not-great mediocrity. The show's clearly not a monster success, and it's far from a bomb. But we're not ready to declare it just okay, either. Yes, its debut ratings just barely met expectations, and a big chunk of viewers fled during the next two episodes. But a mid-2 demo rating at 10 p.m. in 2012 qualifies as something of a modest hit; ABC's landed magazine covers for Revenge with exactly that sort of Nielsen performance. If you strip away all the hype and pre-launch expectations from Smash, the show has actually done pretty well. Barring an unexpected collapse in the coming weeks, NBC will almost certainly renew it for a second season. And if it continues drawing the sort of numbers it earned last night, Peacock brass won't even have to think twice about the wisdom of such a decision.

Follow Josef Adalian on Twitter for regular TV insights and occasional obsessive dives into old TV clips unearthed on YouTube: @tvmojoe