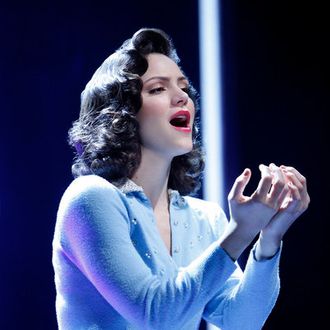 Photo: Will Hart/NBCUniversal
Most TV-industry insiders expected Monday's second episode of Smash to draw fewer viewers than last week's Super Bowl–pumped premiere. NBC, however, had hoped the drop wouldn't be quite so steep: Last night's hour averaged 8.1 million viewers at 10 p.m., finishing third behind Hawaii 5-0 and Castle, and declining more than 30 percent from last week's debut audience of 11.5 million. The good news for NBC: Smash isn't skewing as old as some insiders predicted. Among viewers under 50, it actually finished in first place, though its 2.8 rating in that demo was still down a painful 26 percent. The Peacock can also take solace in the fact that The Voice, perhaps an even more important factor in the network's long-term recovery plans, held up very nicely in its second week. Episode two drew more than 17 million viewers and averaged a 5.9 rating in the key demo, down just 12 percent in the latter category. (Plus, with Jordis from CBS's dearly departed Rock Star back in the spotlight, we're very happy.) So what's the verdict on Smash?
Well, it's still too soon to tell. For one thing, last night's episode may have simply gone to the dogs because of … the dogs. As in the Westminster Kennel Show, which aired opposite Smash on USA and has a history of drawing a decent crowd. What's more, there was bound to be a sizable decline for Smash in its second week, since there was no longer as massive a promo push behind it (and because some folks simply weren't going to like the show). While it's pretty clear that Smash isn't going to be a game-changing hit, if it can manage to hold its declines in the next week or two to another 10 percent or so, it should settle into a ratings range that makes the Peacock inclined to keep it for another season. If its demo score falls much below a 2.5 or so, however, things could get dicey.

Meanwhile, Monday's ratings offered some other interesting nuggets. After holding on nicely for three weeks, Fox's J.J. Abrams–produced Alcatraz sort of fell off a cliff and into the Pacific Ocean. Its demo score tumbled to a 1.9 rating and just 6.2 million viewers, putting the network in fourth place for the 9 p.m. hour. This could be good news for Terra Nova, since conventional wisdom around Hollywood had been that Fox wanted to see how Alcatraz did before making a call on the dinos, since the network really didn't have space for both dramas next season. Last night's numbers upped the odds of a Terra Nova renewal, though it's still a bit hazy, particularly since The Voice may yet weaken, bringing viewers back to the Rock. Finally, CBS had a surprisingly off night. Even though the network had massive tune-in for Sunday's Grammys, providing  great promo platform for its Monday comedies, all four half-hours scored season low ratings last night. We'd like to argue Nielsen has bigger issues than worrying about an errant tweet from Oprah.