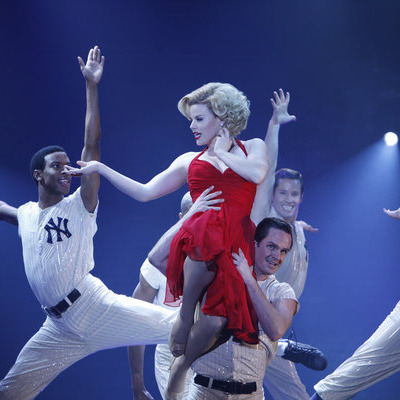 Would
Smash
's dancing Marilyn actually work on Broadway?
Photo: Will Hart/NBC
Whether NBC's Broadway-behind-the-wings drama Smash turns out to be a smash is up to TV critics, audiences, and the Oz-like Michael Riedel, but it's apparently not too early — according to the rules of the pilot itself — to weigh in on the show within the show. Vulture's TV critic Matthew Zoller Seitz has weighed in on the merits of Smash as a TV show, but as the in-house theater critic, I was asked to assess the still-evolving show-within-a-show as a stage work. In case you've been in an NBC-proof bomb shelter for the last three months, here's its pitch: The series is a soapy drama about the creation of a new musical — the backstage battles, the 42nd Street— like rivalries, the clashing egos, etc. The musical that's being created (inside a show that is, itself, occasionally a musical — stay with me!) is a still-untitled take on the life of Marilyn Monroe. As many characters note, it's been tried before, without success. Listen to these goo-filled aural water balloons, if you dare.
In the pilot, aside from a few covers, we're dispensed one full original production number ("The National Pastime"), one snippet of a chorus of a torch-song ("Never Give All the Heart"), and one propulsive non-diagetic duet/duel ("Let Me Be Your Star"). And yes, musical-phobes — that last song features people bursting into song in the "real world," y'know, whatever that is. But what exactly is this Marilyn musical that Tom Levitt (Christian Borle) and Julia Houston (Debra Messing) are writing? There's no talk of the story, other than some vague rah-rah about how Marilyn's life would make "a great musical." "I love the songs, the book needs work," warns Derek Wills (Jack Davenport), and that's the first and last we hear about that oft-overlooked but all-important facet of musical storytelling — i.e., the actual storytelling. We'll let that go for now … until we come back to it. After all, if you don't really have a story— just a "life," which is (most emphatically) not a story— how do you know what your characters are supposed to be singing about? Let's dissect the numbers:

1. "Never Give All the Heart"
A smoky "I Want" song in a Sinatran mood, this number is sung by ambitious sex bomb Ivy Lynn (the vociferously Marilynesque Megan Hilty) in a private recording session with composer-lyricists Houston and Levitt. The title is a nod to (and a reply to) Yeats, and the music unspools like a caramel wand. But I'm not entirely sure what the song amounts to. The chorus (if it is a chorus) packs in enough musical information to stand in for a song, and I suspect this was written as a snippet, not pruned from a completed number. It's the sort of faultless pastiche veteran composer Marc Shaiman (Hairspray, Catch Me if You Can) can write in his sleep. The lyrics Shaiman has written (with longtime collaborator Scott Wittman*) are as clever as always: "As the wise man once wrote / Never give all the heart / Well / It's easy to see / He was writing for me / I just wish I could play that part." The song is a bit rhyme-happy, though, and I sometimes wonder if sticking the ABBA-scheme is more important to them than the emotional content they're serving. (Then again… what emotional content? What's she singing about? Where's the story beat this song serves? There's no book, so it's an unknown unknown.)

2. "The National Pastime"
Ivy, a curvaceous striver who's survived innumerable chorus lines, is the bombshell; she's competing to play Marilyn on the basis of her raw carnal drive. Which, the show seems to be subliminally telling us, also means she's a Broadway-belt soprano, in marked contrast to her slender brunette rival Karen Cartwright (Katharine McPhee), who represents "love" (i.e., pop melisma soprano). To drive home that precious (and oh-so-American) sex-love divide, we're given the only full original number of the pilot: an homage to, among other things, "Diamonds are a Girl's Best Friend." Athletically choreographed by Joshua Bergasse, this massive musical gangbang (no exaggeration) features moves ranging from the Cunnilingus Lift-Spin to the Double Rumpy-Pumpy. Brilliantly filmed and edited, indefatigably hoofed by an incredible ensemble, "National Pastime" — where Marilyn apparently celebrates her first date with Joe DiMaggio by getting double-entendre-teamed by the entire Yankee squad — is, in the immortal words of Spice World, "absolutely perfect without really being any good at all." After so many decades of camp, numbers like this (funny! sexy!) are increasingly hard for a Broadway show to bring off: The point, it seems, is not sex but a parody of sex. Which isn't sexy. But it is impressive! Again, I'd love to know how it works within the show. When, like, there is a show. As for the studio execs no doubt quaking in their wingtips over whether all those bats and balls add up to something inescapably homoerotic, well, that I wouldn't lose sleep over: All great American rituals are inescapably homoerotic, after all.

3. "Let Me Be Your Star"
Finally we come to this driving, pop-injected act-ender in the "Defying Gravity" mode. This is the best number of the night, the most authentically, non-pastiche-ily Shaimanesque of the bunch, though I'm not sure it'll end up in the show itself. "Untitled Marilyn Musical" has seemed, up to now, to be a period-fixed curio, all nostalgia with nary a nod to the contemporary. (This troubles me a bit: Are the creators saying there's nothing worth sampling in modern music? Also: Whom do they think their audience is? Do they want 14-year-old girls and their families buying tickets to their show? I think they do. But let those crasser concerns go.)

"Let Me" has energy and lift, though it struggles with a downward-gliding melody line that repeats its shape maybe one too many times: We get a bit ahead of it. But things pick up as the song gains grain and complexity. The scene itself is cut for maximum "things are happening! Happening right now!" urgency, and brings to mind my favorite lyric from the musical episode of Community: "Everything's cooler when cameras are spinning / Singing and dancing in unison-in-in-ing." You can't say it — or sing it — better than that. I'd advise the Smash team to learn at the feet of Abed. Bonus: He's a real stickler for story.
* In an earlier version of this post I suggested or stated outright that Scott Wittman is the sole lyricist on all the Shaiman/Wittman-composed Marilyn: The Musical songs. In fact, Wittman collaborates with composer Marc Shaiman on lyrics.