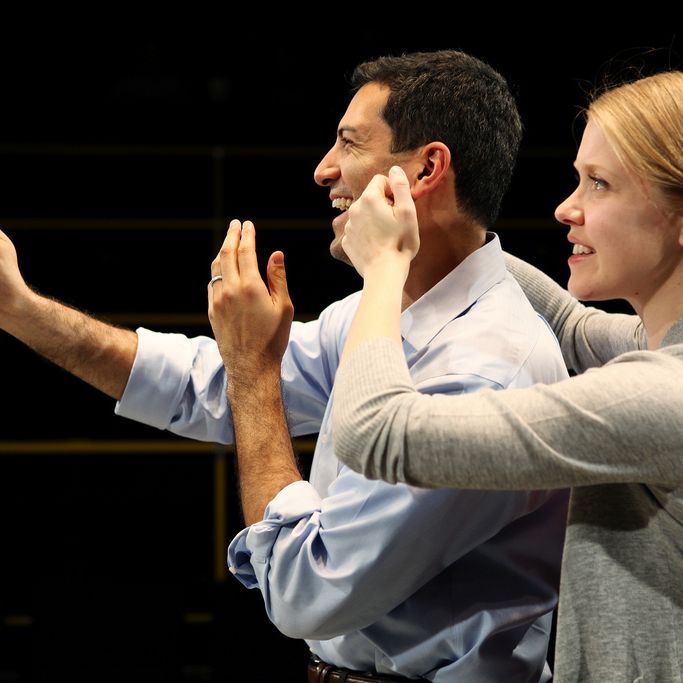 Alfredo Narciso and Lisa Joyce in Soho Rep's 'The Ugly One.'
Photo: Julieta Cervantes
The Ugly One (at Soho Rep's Walkerspace through February 26)
Lette (Alfredo Narciso) is ugly. Very ugly. Nauseatingly ugly. He hasn't noticed. He's been too busy happily inventing electrical plugs for most of his professional life. But everyone else has: his bluff, confrontation-averse boss (A Bright New Boise's Andrew Garman), his accommodating wife (Red Light Winter's Lisa Joyce), and his scheming workplace rival (Hand to God's Steven Boyer). That Narciso is a perfectly handsome fellow only enhances the effect of German playwright Marius von Mayenburg's compact fable, which plays out its brisk, limited premise in 60 minutes, under bare fluorescent bulbs. (Director Daniel Aukin denudes the black-box Walkerspace, floods it with flat, unflattering whiteness, and arrays the two audience banks against each other, stadium-style, cleverly forcing us to stare into each other's faces.) When Lette's "condition" is brought to his attention, he's so shocked, he acquiesces to radical facial surgery. He quickly becomes alluring and, just as quickly, corrupt, and the world around him adjusts and collapses more or less as you'd expect. The messages here — about the mass-production of beauty and the featurelessness and moral barrenness that are the byproducts of modern self-optimization — are hardly new, and the hammy performance style is just a notch up from sketch comedy. (From time to time, a bit too much energy is expended on jokes that probably played better in German.) But The Ugly One is a tight, light hour of scouring entertainment, smartly sculpted down to its very bones, that goes on not one second longer than it deserves to.    

Rx (at 59E59 Theaters through Mar 3)
Stephen Kunken was my favorite part of the fabulously flawed Enron. I'm happy to see him back, in proper prickly form, in Rx, a nice, mild-sauce romantic comedy by Kate Fodor (100 Saints You Should Know) that doubles as a gentle jeremiad against Big Pharma. Kunken is Dr. Phil Gray, a researcher conducting a trial of Thriveon, a drug targeted to treat a highly specific modern ailment. "You may be suffering from workplace depression," he tells study participant Meena (Marin Hinkle). "Which isn't a personal failing, it's a disease.  We hope." Meena hates her job and, instead of quitting, is looking for ways to hate it less. She and the similarly unfulfilled Phil — a life-dimmed idealist whose misanthropy is a poor fit with his altruism — inevitably fall into bed together, and the story follows the usual beats: misunderstandings, well-intentioned lies, betrayals and revelations. Fodor wields a wit that's more powerful than this play, which feints at social and political themes before going for a more traditional kind of bittersweet be-careful-what-you-wish-for storytelling. But she's created a sweet romantic ecology for her characters to inhabit, and they inhabit it well: Hinkle is a charmer with a crisp comic delivery, and her nerd-on-nerd chemistry with Kunken is perfectly winning.