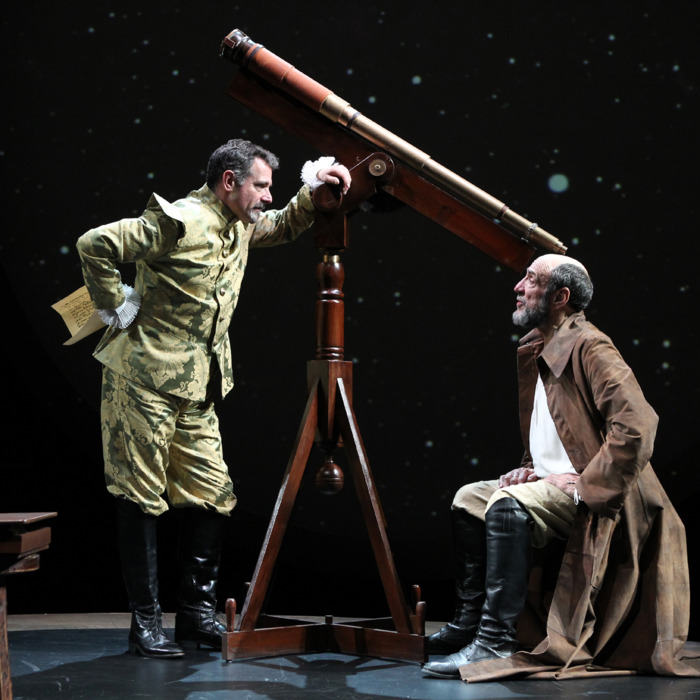 Steven Skybell and F. Murray Abraham in Classic Stage's 'Galileo.'
Photo: ?2012 Joan Marcus
Galileo (at Classic Stage Company through March 18)

Even at half-strength, F. Murray Abraham exerts a pull on smaller bodies in his vicinity. He's playing the title iconoclast in Brecht's Life of Galileo — now receiving a lightweight, slightly unsteady treatment by Brian Kulick at Classic Stage — and while he's bright-eyed and physically brisk, there's something apprehensive in his normally fur-lined delivery. (It may be mere lack of preparation: Everyone fluffed a few lines the night I attended.) Even so, Abraham can command, with a whisper, or a leer, or a resigned smile, what many of his co-stars can't manage with a bellow: our consistent attention and concern. Staged in environs that suggest a children's museum in color-scheme and decor, this production of Brecht's oft-revised masterpiece about the complex interplay of science, appetite and power makes use of Charles Laughton's springy 1946 translation and never lacks for clarity. It's clear-eyed and didactic, which Uncle Bertolt would've liked, but also basic and Day-Glo and cathartic, which he probably wouldn't have. Abraham is clearly enjoying himself as the wily Galileo, who enjoys putting one over on the dolts in power and isn't above a little intellectual property theft to help fund his research. Mind and stomach are two dishes to one table, as far as Galileo's concerned: He hungers for truth and veal, and two come into conflict when he accepts a rich commission that brings him into the dangerous orbit of papal authority. Brecht wanted to disrobe the hero and lay bare the recanter and collaborator, the easily co-opted scientist beneath the secular-humanist halo — the father of Oppenheimer and Von Braun, not just Einstein and Salk. But Abraham, with his natural magnetism, can't help commanding our sympathy and our empathy: Kulick's casting/directing/costuming choices have surrounded the great man with cartoons and caricatures. All fall like ninepins before the Father of Science. In this Galileo, he really is the center of the universe.
Early Plays (at St. Ann's Warehouse through March 11)
Last fall, the New York Neo Futurists gave us The Complete and Condensed Stage Directions of Eugene O'Neill, a photographic negative of O'Neill's somewhat obscure early works, performed without dialogue, only his lavish stage directions. The denuding of America's first great modern dramatist continues with Early Plays, a rare collaboration between two avant-garde powerhouses: The Wooster Group and Richard Maxwell's New York City Players. Apparently, it takes all hands on deck to strip the gaudy portentousness from O'Neill's nascent voice, but that's exactly what Maxwell (who directs) is after, as he bars his actors from engaging the audience's empathy. We follow the crew of the tramp steamer Glencairn across an ocean and through the action of three plays: Moon of the Caribbees, Bound East for Cardiff, and The Long Voyage Home, works from O'Neill's twenties that portray, with grim-visaged naturalism, the disposable lives of common sailors, shanghaied by fortune, nature and fate. Most lines are delivered deadpan, directly to the audience, and O'Neill's many dialects and accents are flattened into phonetic parodies of themselves. Actors change characters with absurd flourishes: Gatz's Jim Fletcher, for example, adorns his helm-like chrome dome with a rooster hairpiece that looks scalped  from the pate of Conan O'Brien. And if you're looking for the Woosters' traditional video-collage cacophony, you're out of luck: Maxwell is looking to weed out everything dangly or extraneous (including what most casual observers would call "acting").   
Does it work? That will largely be a matter of taste, but I found myself rapt for large swaths of Early Plays. The austerity of both design and acting/staging elicit mostly laughter at first; the great bellowing passion-spasms of O'Neill — the fistfights, the prophecies, the purple clouds of doom — seem, at first, merely ridiculous when read flat, with actors staring at each other dead-armed and dead-eyed. (The two companies, and individual actors within them, seem to take different approaches to Maxwell's anti-acting directives, and this creates varying levels of engagement and estrangement for the audience, which might not be entirely intended.) But the spell is steadily cast, as Maxwell's cyclical, self-composed neo-shanties and working songs — performed by the cast, on a tinny upright piano and accordion — gradually earworm their way into your subconscious. By the end of The Long Voyage Home, we're surprised at how invested we are in the most basic and manipulative plot-structures. When they've thrown almost everything over the side, how does this crew keep the old tub afloat? Go see for yourself.