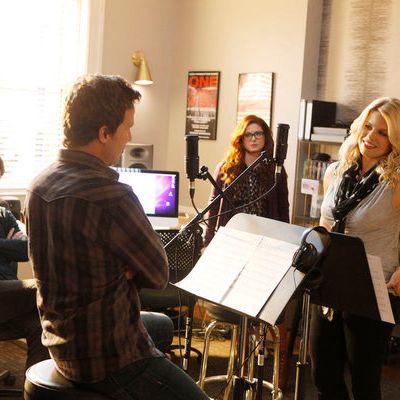 Photo: Patrick Harbron/NBC
Welcome back to my "review"-within-a-review of the show-within-a-show-within-Smash. (In case it was unclear: All those hyphens and quotation marks connote the supreme unseriousness of this whole project. Obviously, there's no actual Marilyn: The Musical yet, despite director Derek Wills's mid-hump assurances that eight songs and "half" the book are in the can. (I hope these "reviews" of mine have been taken in the show's general spirit of chutzpah.) But, as the "show" "continues" to "evolve," it's time to stop the à la carte reviewing and let Marilyn grow into her ballgown a bit. This will be my last review for a while, and I'll wait to weigh in later on the "finished" show.
This week, the miniature Houston-Levitt story corkboard is still mighty sparse, and there's precious little Marilyn for me to "review": Just one smooth little pastille of a duet. But first, let's gauge the theater-world authenticity of a couple of other scenes …

"THAT BRUNO MARS THING AT LAMAMA"
We're told that sexually dangerous hetero-tenor Michael Swift (erstwhile Rent-er Will Chase), who's a prime candidate to play Joe DiMaggio, is performing in "that Bruno Mars thing at LaMaMa." This would prick up the ears of any New York theater nerd, as LaMaMa ETC., a famed off-off-Broadway theater complex founded by the late Ellen Stewart and dedicated to the avant-garde, doesn't really "do" jukebox musicals, pop musicals, or ancillary deals with Elektra Records. Anywhaaa, director Derek and producer Eileen head to the East Village to get a look at Michael. What they discover is a big-budget show-choir rendition of "Grenade" performed by the replacement cast of Rent. (Who spend a lot of time dancing with their backs to the audience, in order to pick up a crane shot that's been positioned upstage. Now that is avant-garde!) Look, a Playbill! At LaMaMa! Curiouser and curiouser. The last time I heard "LaMaMa" referenced in the mainstream was when Stephen Colbert asked David Mamet if he was known for "downtown LaMama put-meat-on-your- forehead-and-call-it-theater." Smash seems to be using it to connote something vaguely "edgy" and "hip" and Rent-like — you know, like the, uh, Bruno Mars oeuvre. (Tune in next week when Justin Bieber teams up with Karen Finley in a $75 million Cameron Mackintosh–produced revival of And God Created Great Whales at P.S. 122.)

"REDNECK WOMAN"
Karen (Katharine McPhee), her dreams of playing Marilyn (temporarily) dashed, retreats home to the mythic state of Missitucky — what's that? She's from Iowa? No matter: As far as the show's concerned, it's Not New York, which means it's time for a rousing cover of Gretchen Wilson's "Redneck Woman." Karen takes to the stage in a joint that looks suspiciously like some ultracool warehouse venue in Bushwick, but is, we're subliminally assured, an authentic Middle American honkytonk. No chain restaurants or strip malls for our country gal! (Note: Karaoke has been illegal at the local Missitucky Fuddrucker's ever since the unfortunate "It's Still Rock and Roll to Me" Riot of Aught Six.) Backed up by three carefully cast "best friends," Karen gets her cracker on, drawling Gretchen Wilson's anti-elitist anthem double hard to prove she's still from the Real America. Beyond McPhee's always solid, faultlessly on-genre, never-distinctive vocals, the song is just barroom hamming — but Bob's Country Bunker this ain't. Would it have killed these gals to start a fistfight?

"MR. AND MRS. SMITH"
Finally, as we near the curtain, we're given another morsel o' Marilyn, in a Houston-Levitt (Shaiman/Wittman) duet called "Mr. and Mrs. Smith." This is the "Broadway" sound most non-theatergoers consider themselves familiar with — a style most of us absorb second- or thirdhand, via Disney films. The singers are Ivy-as-Marilyn and Michael-as-DiMaggio; the conceit is that Marilyn and Joe, on the verge of marriage, discuss living in anonymous domesticity, living in "Main Street USA," checking the "small-town classifieds" for "a cottage built for two." Shaiman's got a strong melodic signature here, undergirded with straw-boater chord progressions and hints of ragtime: ice-cream socials, Mckinleynomics, golden-age stuff. This is the sort of music that must give Ron Paul a nostalgic twinge in his gold standard. The lyrics are aggressively and ironically naive, of course …

No early calls
No big premieres
No lush romantic theme
We'll spend the nights
Making our own
Little League baseball team

… as they're intended to set off the distinctly unwholesome attraction that's being rekindled, with do-me eyes, by Michael and Julia. Without this supertext, of course, the song is pleasantly reminiscent of certain predecessors in treacle. (Start at 0:52  in that clip if you're in a hurry.) No matter. I enjoyed its long sugar-chains of caramel melody — there's an art to fine cheese, and Shaiman/Wittman (holding back the show's rising tide of archness) have mastered it.