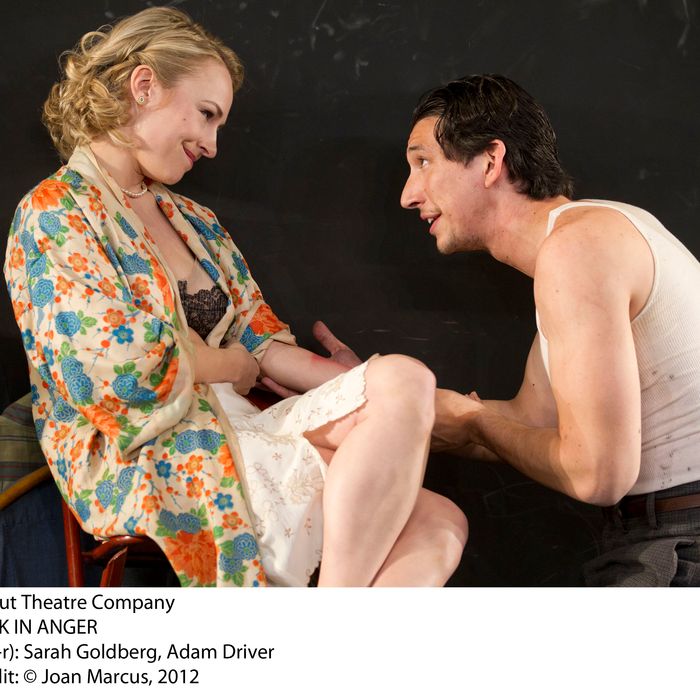 Sarah Goldberg and Adam Driver in 'Look Back in Anger.'
Photo: ?2011 Joan Marcus
It's impossible to reproduce the effect Look Back in Anger, John Osborne's scorching 1956 kitchen-sink screamer, wrought upon the polite English stage. Audiences accustomed to the wink-wink discretion of Coward and Rattigan were suddenly faced with a story about naked class rage, Kowalskian male energy, and exploding social mores in the winter of Britain's fifties discontent. What would Lady Bracknell have made of Jimmy (here, Matthew Rhys), a restive young lefty with a vicious verbal right hook? A working-stiff malcontent who "still thinks he's in the middle of the French Revolution"? Overeducated for his lowly station — he runs a sweets shop — Jimmy siphons off his fury in cacophonous trumpet playing, endless rants against the entitled silk-shirts "who want to escape from the pain of being alive," and hellacious philippics against his wife, Alison (Sarah Goldberg), whose hand he won over serious protest from her posh parents. He's like hell's on hummingbird, running on tea and beans. ("People like me don't get fat … We just burn everything up.") Devouring newspapers both posh and Red, he rails against society. Yet society, high and low, exists only in the abstract in Sam Gold's bare-bulb, bare-stage, bare-soul production: He's pitilessly trimmed the physical production down to its dry bones — the set is garbage, literally, with a scuffed black back wall installed at the proscenium line. The action has been shoved to the very precipice of the stage. (Gold has also cut a scene with Alison's father: This Anger belongs exclusively to the young.)
The choices are strong and the goal, I think, is to make Jimmy's wish come true, in nightmare form: to clear the world of obfuscatory decorum and make it a classroom (complete with a backdrop resembling a chalkboard) for his general dissent. "Why don't we have a little game?" he begins, "Let's pretend we're human." Does the lesson take? Sometimes. Gold — in a shift away from the almost scientifically stilted emotional standoffs that have forged his reputation — puts his actors into elbow-throwing overdrive. (He has to do something: Otherwise, it's all grit, growling and psychological realism, a Chicago play with more talking.) They toss cans, trash, food, and each other around the dirty-fingernail-clipping's worth of stage they've been allowed. (No backstage, no wings — even when they're "off," they're on.) But you always feel them working against a distinct cultural disconnect that occasionally baffles the class-anesthetized American mind (well, this one, anyway) and makes Jimmy's campaign of verbal sadism against Alison — and Alison's stiff-upper-lip toleration of it — hard to comprehend on something deeper than a literary level.

Rhys, a disciplined and appealing actor best known for his role on ABC's Brothers & Sisters, does yeoman's work bridging that Atlantic-size gap, but he can't always find a toehold for Jimmy's volcanic spasms of rue: He needs to be a Punk, capital P, but often he settles for lowercase, and we feel the deficit. The always-bizarre Adam Driver, struggling gamely with an accent, is a loose, welcome presence as Cliff, a working-class Welsh houseguest and Alison's ambiguously platonic refuge from Jimmy. But the big rubbery lug seems to exist in an adjacent but dissimilar universe. Goldberg, who wears pain like a No mask, is the emotional core. Look Back in Anger plays best at full tilt, but its moments of quiet, reflective transition reveal this revival's weaknesses and liver spots. I detected a brave, brainy, but only semi-successful attempt at spot-welding historical parallels: The squandered opportunities and squalid struggles of end-of-empire Britain stand in for the American center-left's bitter post-tea-party disappointments. Toward the end of the play — after numerous betrayals, walkouts, and walkbacks — Jimmy asks us to choose: "It's either this world or the next." He asks us, but he doesn't make us. I couldn't find myself provoked, only worn down. This Look Back spends so much time so close to the edge, I wish I'd felt a bit more vertigo.

Look Back in Anger is playing at the Laura Pels Theatre through April 8.