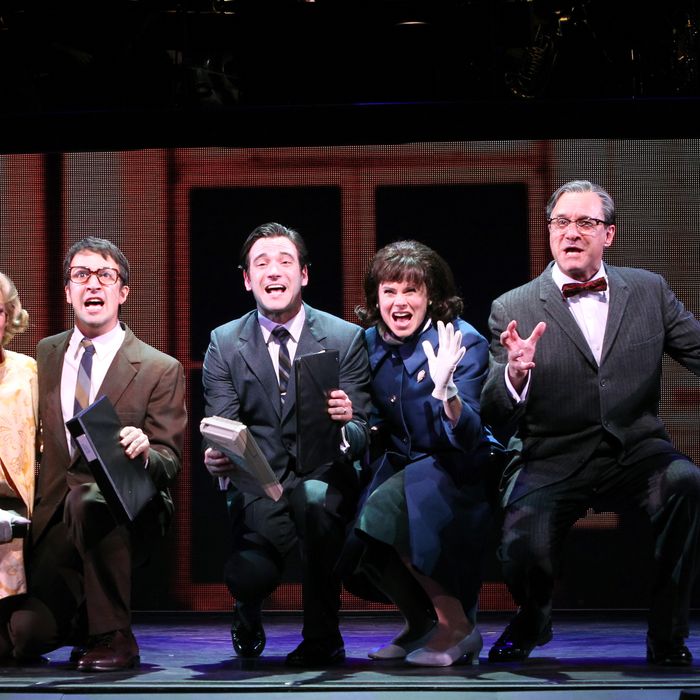 The performers are under-rehearsed (a time-honored Encores! tradition). The full, 23-piece orchestra is occasionally tremulous and the tempos sometimes lag, as if the conductor left the parking brake on. And those Gumpish LED projections are — with apologies to the great Wendall K. Harrington — dopey. (Almost all LED projections are dopey: Here I plant my flag.) And yet, to suggest that James Lapine's latest remount of Merrily We Roll Along, the legendarily-troubled Stephen Sondheim–George Furth musical about the deterioration of friendships and ideals, told in reverse — is anything less than an eminently transferable rough gem, awaiting only a polish, would be a  calumny and a disservice to theatergoers. Especially young theatergoers. Merrily may seem, on the surface, a Boomer artifact, with its back-to-the-future 1981-to-1957 time frame and its culminating critique of Reagan-era excess, but the show speaks directly to the cratered, deflationary dreamscape of the post-Obama era. Now all it needs to do is learn its lines.
Anything Goes's Colin Donnell is Franklin Shepard, a Broadway composer turned exigent film producer who slowly boils his youthful ideals down to dollars and cents. Lin-Manuel Miranda is Charley, his lyricist-collaborator who tried to keep him honest. Celia Keenan-Bolger is Mary, a tortured sometime-novelist turned one-hit novelist turned ruined drunk—she's the boys' Jiminy Cricket and their Cassandra. As we watch this triad rewind from the nuclear winter of middle age to the sunny ideals that brought them together in their twenties, the going is rough. The show's very structure denies us sympathetic characters for most of the first act. (This was clearly too long a wait for some in the audience; speaking very unscientifically, I felt the relative displeasure fracture along generational lines. The walkouts today might be the same people who bolted in 1981.) And the dissension isn't confined to the grumbling groundlings, as things aren't quite settled on stage. Not one of these excellent young performers looks entirely comfortable yet: Once or twice, Miranda seemed to be having trouble remembering lyrics and dialogue. Clearly, the leads were under pressure to drop their scripts early, perhaps a little too early. (Encores! productions — stripped-down staged readings that have, of late, ballooned into half-blown mini-productions — allow for only ten days' official rehearsal.)

But even these bumps — and what feels like a low-level war between singer and conductor over tempo, exacerbated by some glitches with the sound system — can't disguise the deep chemistry that's developing here. Sondheim's musical themes make their ghostly back-door entrances: Thanks to the retrograde storytelling, heartbreakers like "Old Friends" and "Not a Day Goes By" are heard in reprises and submotifs before the full songs burst into view. Any number of triumphant moments point to what the show could and should and hopefully will be, in a well-fleshed production. Keenan-Bolger — sharp as ever, her timing impeccable, her little-girl voice taking on decades of smoky damage, which she magically sheds as time respools — streaks through the opening party scene like a flaming chunk of Skylab, falling to earth. Miranda sells the sweaty breakdown patter "Franklin Shepard, Inc.," a strong, suitably rhythmic number for a less-strong singer, with a fierce, ever-so-subtly contemporary energy. And Donnell, in the oft-thankless role of Frank himself, overcomes some stiff patches here and there: His steady, muscular voice and calculated, self-aware self-regard supply the show with a rudder. Betsy Wolfe, as Frank's long-suffering wife Beth, turns in two devastating rounds of "Not a Day Goes By"; Adam Grupper delivers a pathos and punch as Frank's cuckolded producer Joe. And even through the slight murk of those tempo-problems, the full orchestra, playing new and enhanced arrangements by longtime Sondheim abettor Jonathan Tunick, is a walloping wonder. There's a hell of a show here, but only if the theater community can see this for the highly promising rehearsal that it is.  We can't turn back the clock, but we needn't repeat history, either: Merrily is a show whose time has come. Please, let's let it.

Merrily We Roll Along is playing at City Center through February 19.