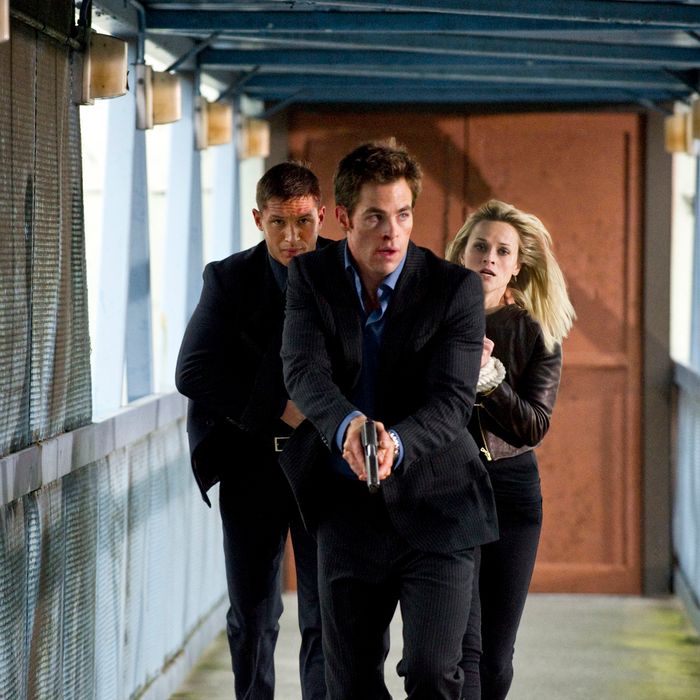 Tom Hardy, Chris Pine and Reese Witherspoon in This Means War.
Photo: Kimberley French/Twentieth Century Fox Film Corporation
"Love," the poet Robert Browning once wrote, "likes stratagem and subterfuge." If that's so, why is Fox's romantic spy comedy This Means War struggling so much in the Valentine's Day season? Originally slated to open on February 17, McG's action-comedy love triangle had Fox feeling so bullish that a little less than a month ago, the studio moved up its release by three days, hoping that opening it on February 14 would turn it into an irresistible date movie and blunt the appeal of Sony's rival chick flick, The Vow, which opens tomorrow. Then, disaster: On Tuesday, after the studio saw abysmal audience research data that suggested that The Vow would leave Fox eating its chocolate heart out, Fox slid War's opening date back to February 17, though even that doesn't seem to be helping its tracking.
So what went awry with This Means War? There are four theories, and all of them have at least some merit. Let's break down how the blame should be apportioned.
Reason 1: Fox marketed an action-comedy as a romantic comedy, and the explode-o-fest has no business being pegged to Valentine's Day.
Try as Fox might to sell it as a Valentine's date movie, there's nothing about a McG slow-motion-packed trailer full of two guys shooting guns and blowing things up that screams "snuggly romance." "For the past month, they've been telling people that this was going to be the Valentine's Day movie of the season, in an effort to thwart The Vow," says one Sony exec. "The problem with that is, it's not a romance: Conceptually, it's a balls-out action movie — admittedly starring two of the sexiest young leading men around, but it's still a 'guy' movie. And what you're left with is, you're trying to sell a male movie to women. They severely miscalculated what this movie is. I believe the truth is, had they released this at any other time of year as a guy movie, it would do a lot better." War was written by Simon Kinberg, a prolific writer-producer who is a favorite of Fox's: He did uncredited script doctor work on the studio's like-minded killing-machine-distracted-by-love spy comedy Knight and Day, and was also the screenwriter of Mr. and Mrs. Smith. Both of those were summer releases and marketed as action-comedies.
Share of blame: 30 percent
Reason 2: It's Tom Hardy, Chris Pine, and/or Reese Witherspoon's fault.
"[The male leads Chris Pine and Tom Hardy] are sex symbols," says one marketing consultant at a rival studio. "They should be the object of desire, not her. And so with the focal point on the two guys, with her in the middle, it suggests she has them on a string. [But] she's not that type of girl. Reese Witherspoon is the modern Doris Day: She's the girl you marry after the hot chick has moved on to the next guy." So while Witherspoon has great credibility in romantic comedies, Angelina Jolie she's not. More, Witherspoon's last two films — Water for Elephants and How Do You Know (also a romantic comedy; an abysmally reviewed one, sure, but nevertheless cause for alarm) — didn't open, either. Then there's the matter of Pine's and Hardy's own star appeal: It's an open question if Pine is destined to be a Daniel Craig–type star: beloved and great in his definitional character (Captain James T. Kirk), but less effective in non-franchise roles. (With a $167.8 million worldwide gross, last year's Unstoppable did okay, but that was likely largely thanks to Denzel Washington's appeal.) It's also unclear if the talented and appealing Tom Hardy, who is only slowly becoming a household name, can actually draw audiences. His unintelligible and unrecognizable appearance in the Dark Knight Rises trailer probably didn't do much to help cement his profile.
Share of the blame: 20 percent

Theory 3: This is all James Cameron and Paramount's fault.
While Titanic 3D is opening worldwide on April 4, Paramount is giving it a special, super-romantic preview screening on February 14 in 44 cities. While it's only a one-day, limited-availability event, Titanic is largely considered the most romantic epic of the last twenty years, so when it opens on Valentine's Day, it sucks all the roses out of the room. Says one of our marketing sages, "[If you open a movie] on a Tuesday, you need to be an event that makes all other comers think 'I better not do it.' This Means War is not such an event movie; Titanic, re-mastered in 3D, is." And here's a fun side note to illustrate just how little love there is in Hollywood: The marketing guru also notes that "[Paramount was] Fox's partner on Titanic, but it was really Fox's movie, since Paramount's expenses on Titanic were capped at $75 million. And now, ironically, Paramount has helped kill Fox's new movie [with Fox's old movie.]"*
Share of blame: 15 percent
Theory 4: This is all Nicholas Sparks's fault.
The Vow is not a Nicholas Sparks movie, but women assume it is. After all, it has all the hallmarks: It's a romantic weepy that you know will end well, with a guy who won't let a tragedy stop his undying love, and it stars an all-star team from Sparks's most successful movies, Channing Tatum (Dear John) and Rachel McAdams (The Notebook). To women, it's like watching the two most romantic movies they've ever seen make out. And as a result, it is so beguiling that it has blinded many females' ability to acknowledge any other romantic movie on the horizon.
Even after Fox bought a pricey Super Bowl pregame spot staking its claim to Valentine's Day, Monday's studio tracking still showed Sony's The Vow soaring while This Means War was largely overlooked. According to NRG numbers leaked to Vulture, fully 81 percent of women under 25 surveyed were aware of The Vow, and two thirds of them expressed definite interest in seeing it. And most surprising, a whopping 30 percent of them listed The Vow as their first choice — a number that's practically unheard of. Meanwhile, War wasn't merely in free fall; it was, as one marketing consultant it put it to us, "pancaking." It trailed The Vow by twenty points in awareness and only half as many women expressed definite interest in seeing Fox's spy comedy. Most dispiriting, compared with War, ten times as many young women listed The Vow as their first choice.
Share of blame: 35 percent
And so, while Fox hopes for the best, Sony rests easy, knowing it has a stranglehold on America's Valentine's Day softies. The tracking is proving especially strong with females under 25; our Sony production source happily notes that this is a studio's dream audience. "Between the ages of 12 and 16, girls don't go to a movie alone," says our source. "They bring seven of their friends, and if they like it at all, they go more than once. So when people mistake it for a Nicholas Sparks movie, all I can think is, 'Fuck, yeah!'"
And that, of course, is Hollywood-ese for "Happy Valentine's Day."
* An earlier version of this story suggested that Paramount's Feb. 14th advanced screening of Titanic 3D would count towards its grosses. Rather, the screenings are promotional and will not count towards the rerelease's domestic gross.