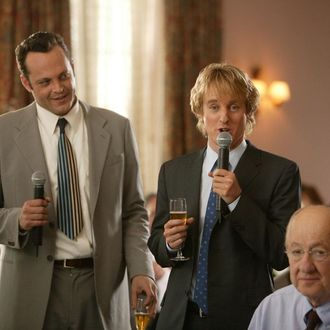 Vince Vaughn and Owen Wilson in 'Wedding Crashers.'
Photo: Richard Cartwright/New Line
Attention, all you Wedding Crashers fans who've been awaiting a re-pairing of Vince Vaughn and Owen Wilson: The post-modern equivalent of Bob Hope and Bing Crosby will ride again! This time, the duo is headed to Interns, a script Vaughn penned which looks to be headed for Twentieth Century Fox. And apparently, Vaughn had a fine enough time making his last movie Neighborhood Watch with Shawn Levy in the producer's chair, because we hear Levy will be directing Interns as well.
What happened was this: After Fox recently balked at making Levy's planned remake of Frankenstein at an $80 million budget, Levy's next picture became an open question. And shortly before that happened, Vaughn had been ready to star in The Insane Laws, a Universal Pictures comedy that would have marked the directing debut of Vaughn's The Break-Up screenwriter, Jeremy Garelick. But as with Frankenstein, Insane Laws also fell apart over budget issues – largely, we're told, due to Vaughn's intransigence about cutting his fee – and so Universal shelved it and put Interns in turnaround as well.
Suddenly, both men were available to work together, and Fox quickly scooped up Interns. Having heard the premise, we can see why: Vaughn and Wilson will play forty-ish company guys who both get laid off in a downsizing. Convinced they've gone about managing their careers entirely wrong, they resolve to become interns at a Google-like dotcom and start anew. Suddenly, the two old chums are competing against wily, fresh-faced 22 year olds for advancement. So while the cast seems like a Wedding Crashers reunion, Interns kinda sounds remarkably like the sequel to another Vaughn comedy starring the other Wilson, Old School.
It makes us wonder aloud: If deals can be made all round, will there be enough dough left over for a cameo from Frank the Tank?