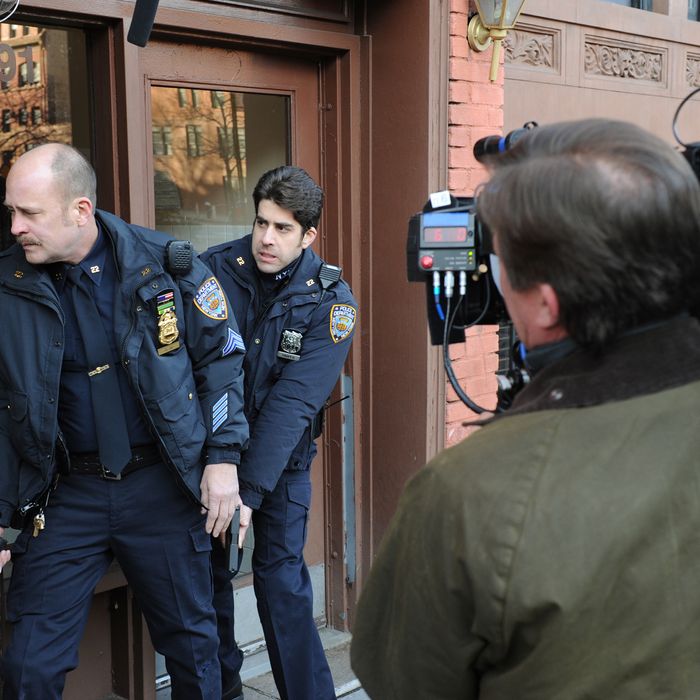 Terry Kinney and Adam Goldberg.
Photo: David M. Russell/?2011 CBS Broadcasting, Inc. All Rights Reserved
The midseason cop drama NYC 22 (created by novelist and Wire writer Richard Price and produced by Robert De Niro) premieres this Sunday night at 10 p.m. on CBS. Unlike its similarly New York–branded predecessor NYPD Blue, this ensemble piece about six rookie cops serving under the tutelage of a tough-loving officer nicknamed "Yoda" (played by Oz's Terry Kinney) is shot entirely in Manhattan, setting up cameras mostly on the streets of Harlem. Last December, Vulture headed uptown to observe a scene being shot, and we got to check off all the items on our "cop-show set" wish list: officers poised behind a police car with guns pulled, lights flashing, lots of riot gear, and a hostage situation. "It's cops and robbers," said Kinney. "We're playing cops and robbers."
NYC 22 follows this sextet of newbies as they learn on the job from their training officers — from breaking up gang fights and stopping murder-suicides to pulling cats down out of trees and guarding dead bodies. Today's crime du jour is a hostage situation at a flower shop at 119th Street and Lenox Avenue. "People sometimes think we're real cops," Leelee Sobieski, who plays one on the show, told us later by phone. "If we're shooting by a high building, they might throw a rock down at you. Or some water or urine might come tumbling down. That's Harlem!" Sobieski's character, who isn't on duty for this afternoon's shoot-out, is a former Army MP who served in Iraq. Each member of the sextet has an exciting former life: There's also a former NBA star; a Pakistani immigrant; the sister of infamous neighborhood drug dealers; the descendant of a long line of cops; and a downsized former crime reporter, played by Adam Goldberg … who, interestingly enough, once played a pushy crime reporter who antagonized Dennis Franz's Sipowicz on NYPD Blue.
The actors playing cops aren't supposed to wear their uniforms off set — impersonating an officer is illegal, after all — but Sobieski was often tempted. "Sometimes I have fun when I'm crossing the street on set, and I'll hold up my hand to stop jaywalkers," she said. "So sometimes they don't know if maybe I'm a cop that's helping with filming, keeping order, and they'll ask, 'Can I cross the street here?', or 'Are you a real cop?' I'll say, 'What do you think?' And one person said, 'I don't know, but you're doing a good job either way.' I even got a, 'Hey, I'll let you arrest me!'"
While the crew was spread halfway across the block in a shantytown of snack tables, carts filled with cables, and milling technicians, the scene took place and was shot from inside the tiny flower shop. There, Kinney and Goldberg pointed their guns at a gangster who had his own pistol pointed at the hostage. It was a long scene, four pages of dialogue, filled with volleyed accusations and threats and confessions, and the actors got achy holding their guns up for so long. ("Seven hours!" Goldberg groaned later. "I get through it by thinking of my mortgage.") The director had to remind Kinney to keep his gun up during this exchange, when the gangster character, Fred Wheeler, said:
"Let me ask you a question. What the hell is SOHA?" (Wheeler had heard the abbreviation earlier in the episode, when it was becoming clear that the Harlem he once knew no longer existed; he barely fit in with neighborhood.)
"It's an abbreviation for South Harlem," Kinney explained. "You know, like Soho."
"What the hell is SOHO?" Wheeler asked, and then the shooting started.
"That's the best pre-suicide line ever," Goldberg said later.
"It's such a great closing line," Kinney added. "This guy was the king of the neighborhood, and he can't live with the way everything's changing. This flower shop used to be his crack factory. In a way, that's the flavor of the show, this uneasy fit  — there's the part of Harlem that's resentful of the police, and there's the gentrification, like in Brooklyn, where you have the stroller mafia."
In between takes, cast and crew members walked the block, interacting with the locals. On days when he had time to kill, Goldberg whipped out his guitar and entertained onlookers by improvising songs that describe their surroundings. "I'm standing here, I'm waiting," he sings. "If the delirium kicks in, I'm not responsible." The long days of fake patrolling the streets can do strange things to an actor's mind. "One of these days," Sobieski said with a laugh, "if we're ever struggling, I might walk home in my cop outfit. Wouldn't it be great publicity for the show if I got arrested?"