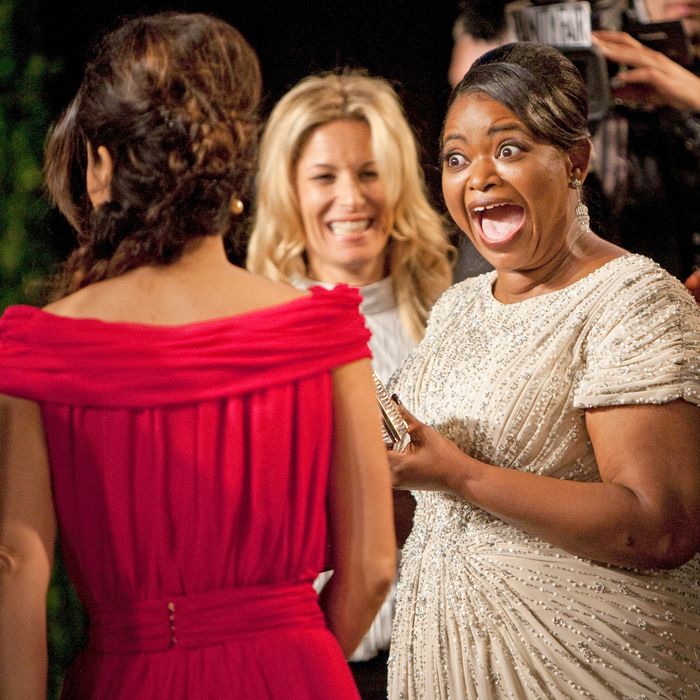 Octavia Spencer enthusiastically greets Salma Hayek at the Vanity Fair party.
Photo: ADRIAN SANCHEZ-GONZALEZ/AFP/Getty Images
While you were dusting off your VCR, getting ready to enjoy a Reese Witherspoon–inspired screening of Overboard, Hollywood's finest were heading out to glitzy Oscar after-parties, topping off a long weekend of boozing and schmoozing with … more boozing and schmoozing. Vulture was there every step of the way — starting on Thursday and ending on Sunday — to eyeball, eavesdrop, and report on what went down. Herewith, an epic timeline that includes a Jon Hamm dominoes defeat, a Jonah Hill and Seth Rogen reunion, and a Blythe Danner guilt trip. Alas, nip slips were reserved for the ceremony.
Thursday
8 p.m. Mayor Antonio Villaraigosa greets the crowd at the Hollywood Reporter's pre-Oscar party and calls his mayor's quarters, Getty House, "the finest in public housing." Hey, he said that last year!

8:25 p.m. Finally, some star power: Owen Wilson enters the room.

8:36 p.m. Hey, there's Michael Sheen and … Brooklyn Decker. The latter is dreaming up ways to thwart the rise of her swimsuit model rival Kate Upton, no doubt.

8:50 p.m. Indie director powwow: Like Crazy helmer Drake Doremus talks to Sound of My Voice director Zal Batmanglij.

9:05 p.m. Does that strict Glee schedule actually leave Darren Criss any time to see movies? "Oh, we squeeze them in!" he tells us. "A lot of eleven o'clock screenings, and also a lot of screeners."

9:07 p.m. Criss's favorite of 2011? "I'm partial to The Artist, because I'm an old-fashioned guy. And obviously along those same lines, because of its penchant for nostalgia, Midnight in Paris." Still, when we ask him to predict whether Viola Davis or Meryl Streep will win for Best Actress, he demurs. "I can't answer that!" he yelps. "I'm not a gambling man; I do terrible in Vegas."

9:30 p.m. Some of the people in this room never age, but Matthew Lillard now looks so dramatically middle-aged dad that you would never think to see whether Freddie Prinze Jr. were tagging along with him.

9:42 p.m. Vulture bumps into Jessica Chastain, who's taking a picture of the bandleader onstage. "I love his vest!" she tells us. Chastain isn't at all "too cool for school" … in fact, she's going around the room taking her own photos to commemorate the night.

9:50 p.m. The Help director Tate Taylor stands in the receiving room by himself, looking a little bit glum. When we ask for an interview, he pauses and declines: "My last interview didn't go so well."

9:55 p.m. Outside at the valet, Taylor runs up to pat us on the shoulder. "Sorry, let's talk!" he says, ever the southern gentleman. "Just, if you ask me about snubs, I'll kill you."

10 p.m. Despite directing a Best Picture nominee, Taylor initially got his start as an actor. Does he miss it? No, he says: "In a weird way, acting always supplemented my desire to direct … acting in commercials and pilots, you get a lot out of the experience, and there's this feeling of osmosis."

10:04 p.m. Taylor pitched himself to direct The Help by first making a documentary short about domestic maids, and he says he learned how to go the extra mile from some of the bad directors he worked with as an actor. "You'd see people who were completely unprepared and just phoning it in for a paycheck, and you could always tell that. As an actor, it's a very lonely experience when your leader does not give a shit."
10:18 p.m. At the 5th Annual Hollywood Domino Gala & Tournament at the Sunset Tower Hotel, Paul Haggis gives a speech about Artists for Peace and Justice, the nonprofit benefiting from the charitable evening. Haggis asks the crowd to hit the photo booth: "Get your famous asses over there," he says, as HP has promised a $1,000 donation for every star that takes a picture with the green screen Eiffel Tower.
10:36 p.m. AnnaLynne McCord walks over to the booth and dons a mustache-on-a-stick for her photos.
10:43 p.m. On a couch by the stage, Ben Stiller is deep in conversation with model Petra Nemkova. He's flying solo tonight, as is Jon Hamm, who is (of course), challenging someone to a game of dominoes.
11:05 p.m. Hamm's opponent, Amaury Nolasco, accomplishes the unthinkable and BEATS JON HAMM.
11:25 p.m. On the patio, Hamm is taking a break from the tournament, smoking a cigarette and drinking a Heineken. "Let's win," he says determinedly to Jay Ferguson as they return to the table.
12:19 a.m. Jon Hamm wins! He heads back out to the patio, where he is greeted with a song: "All I do is win, win, win." He has a giant grin on his face. All is right with the world.
12:20 a.m. Paul Haggis joins them. "It was a fix," he says jokingly. He says he didn't participate in the tournament because "Jon Hamm is a cheater and I wasn't gonna effing play him." He's still joking. We think?
Friday
5:32 p.m. The Women in Film party at Cecconi's in West Hollywood is a rare opportunity for host Gwyneth Paltrow and her mother Blythe Danner to hang out. "I've never met anybody so busy in my life," Danner tells us. "I collect the grandchildren and we go off and play but I just say, 'Hello, honey; good-bye, honey.' She's a multitasker." Judging from this cape, she's also a superhero.
5:40 p.m. Blythe gets a kiss on the cheek from Gwyneth, who's being escorted by publicist Stephen Huvane and a security man past the press line. "Hi, mom," says Gwyneth, as Blythe directs her toward astronaut Mark Kelly, who is married to Gwyneth's cousin Gabby Giffords. Kelly leads with, "You're taller than I thought." To which Gwyneth nods and responds, "Yes, I'm very tall." And I'm going to wear a cape to the Oscars.

5:53 p.m. Jena Malone is clutching her friend's hand as she darts toward Sucker Punch co-star Vanessa Hudgens inside the restaurant. The two actresses hug and exchange loud, high-pitched "How are you?"s.
6:07 p.m. Selena Gomez introduces her mom to Vanessa Hudgens. There's less squee-ing.
6:12 p.m. Inside the crowded bar, Oscar nominee Demián Bichir [A Better Life] finds precious real estate by an empty section of wall and mouths to his date: "Perfect."
6:43 p.m. A group of women swarms Viola Davis, who is still the Best Actress front-runner at this point. She takes a sip of her mimosa and smiles at her sister Dolores and niece Annabella, who are by her side all night. Later she tells us, "I did have the jitters for a long time; I was taking Zantac. But I'm good now. What will be will be."
6:51 p.m. Allison Janney and Octavia Spencer are posing together for personal photos on a sofa. Someone asks if they're going to tweet it. "You know she doesn't Twitter," says Spencer of her co-star.
7:12 p.m. Shailene Woodley is waiting for her car outside of Cecconi's, and while a lot of people seem ready for a post-awards vacation, Woodley looks full of energy. "I'm so stoked about Sunday," she tells us. It's good to be 20.
Saturday
12:50 p.m. Inside the Film Independent Spirit Awards gifting lounge, a relaxed Anna Kendrick grabs a one-year AMC movie pass, perhaps to catch all seven of her upcoming films. "Last year was crazy," she tells us. "Took, like, ten years off my life."
12:55 p.m. William H. Macy looks mischievous (or is it shameless?) as he poses with a Ritz Carlton gift card, then slides the freebie in his pocket.
1:03 p.m. Len Wiseman and wife Kate Beckinsale arrive, and they're barely able to keep their hands off each other. 
1:12 p.m. 50/50's Joseph Gordon Levitt enters with that smile on his face (you know the one). Though most of the tables are still unoccupied, Christopher Plummer is already sitting at the Beginners table with his wife, Elaine, as the ticket says you have to be in your seat by 1:15.
1:27 p.m. An announcer asks everyone to sit down, causing the equivalent of celebrity musical chairs. Elizabeth Olsen is looking lost and can't find her table because the event staff removed the table numbers for the televised show.
1:32 p.m. Seth Rogen takes the stage and immediately sets the tone: "You know you're at a really great awards show when you have to use porta potties. It feels like we're all camping together."
2:46 p.m. During a break, Seth Rogen and Jonah Hill bump into each other between the press room and the gifting suite, and greet each other like they haven't met up in a while, with hugs and loud laughter. Seth heads back to host, and Jonah tells him to "break a leg."
2:58 p.m. Indie nominee John Hawkes is losing his voice, so out of all the swag available to him — including sneakers, headphones, and hair products — he's most excited to find out about the year's supply of Emergen-C.
Sunday
9:14 p.m. At the 20th Annual Elton John Oscar Party, Adam Lambert and his Finnish boyfriend, Sauli Koskinen, have left Elton John's dinner table to hang out in the bar area and chat with friends. Adam gently strokes Sauli's back.
9:22 p.m. That's some serious PDA, Matthew Morrison: The Glee actor supplements his dessert with a full-on make-out session with his date, a mystery brunette named Renee Puente. He doesn't stray from her the entire night.
9:25 p.m. While watching the onstage charity auction, Miley Cyrus leans into boyfriend Liam Hemsworth.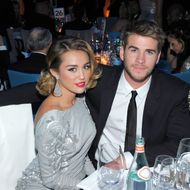 9:36 p.m. Katy Perry — the easiest person to spot in a crowd owing to her bright blue hair — finally moves from her coveted spot next to Elton John. While out in the corridor, she asks a guy to take her picture against a white, draped background. It's surprising her security guy doesn't end up in the shot as he's barely two steps behind her all night.
9:41 p.m. At their table, Russell Simmons and Quincy Jones are greeting a steady stream of female fans. A very young woman appears to give Jones her digits as she sits in his lap.
9:45 p.m. Aziz Ansari and Parks and Rec co-star Aubrey Plaza arrive together. "She's not feeling well," says Ansari. Later, Plaza feels well enough to peruse the Godiva Chocolate bar. 
10:20 p.m. Dianna Agron dances the night away.
10:29 p.m. But she's got nothing on Cloris Leachman: As Foster the People takes the stage, the 85-year-old actress finds a spot in the front row — then rocks out for the duration of the band's performance.
10:33 p.m. Heidi Klum's gold Louboutin comes off as she dashes across the tent. Desire Gruber helps her adjust the pump. 
10:51 p.m. Foster the People is playing songs few are familiar with, but Dianna Agron has her arm around Sebastian Stan's shoulders as she moves her hips to the beat. He then leads her through the crowd, one hand on her back, whispering in her ear.
11:03 p.m. Foster the People plays "Pumped Up Kicks" and the whole room comes to life. Taye Diggs grooves to the song with wife Idina Menzel.
11:18 p.m. At the Vanity Fair after-party at the Sunset Tower hotel, Rooney Mara is the belle of the ball, but Milla Jovovich runs up to pass on a message to Mara's sister, also an actress: "Please tell Kate I adore her!"
11:20 p.m. Tina Fey chats with Top Chef's Tom Colicchio. Perhaps they're talking about old balls?

11:23 p.m. They didn't do the red carpet together, but inside the party, Jason Sudeikis and Olivia Wilde are unambiguously a couple. As Sudeikis chats with Topher Grace, he reaches to his left and strokes Wilde's neck.

11:25 p.m. Fresh out of rehab, Gerard Butler is on the scene and looking trim and handsome.

11:28 p.m. Graydon Carter's Vanity Fair party is always full of unlikely celebrity matchups, and here's a good one: As Jon Hamm chats with a blue-haired Katy Perry, Terry Richardson pulls back to shoot a digital snapshot of the duo.

11:31 p.m. Away from the main scrum of celebrities, a low-key Zach Galifianakis sits with his date, his suit accented by a white scarf.

11:32 p.m. Kristen Wiig and Gwyneth Paltrow greet each other and hug, then smoosh their faces together for a picture. Gwyneth is cape-less, alas.

11:35 p.m. Colin Firth talks to his Tinker Tailor co-star Benedict Cumberbatch, who's now the villain in the Star Trek sequel. "I hope you don't mind my wacky cigarette," a nearby man tells Cumberbatch.

11:36 p.m. Glenn Close is in mid-conversation with Michael Douglas, and they are talking about EXACTLY what you would dream they were talking about. "Remember where we filmed Fatal Attraction?" she says loudly to him, adding, "Remember, the bunny in the pot?" Reader, we swear we witnessed this, though we know it sounds too good to be true.

11:37 p.m. Miley Cyrus and Liam Hemsworth aren't much for socializing: The two of them have been on their own most of the night, like a couple who comes to a party and realizes they don't know anybody.

11:38 p.m. The very-tall Hemsworth is suddenly eclipsed by the even-taller Alexander Skarsgard. Girls swoon and lean in to eavesdrop, but he's speaking Swedish.

11:39 p.m. Salma Hayek makes a beeline for Glenn Close. "There you are!" she shrieks. Unlikely pals?

11:40 p.m. Handsome Chris Evans makes his way through the main room with his equally handsome actor brother Scott.

11:44 p.m. Revenge super-couple Emily VanCamp and Josh Bowman walk past the photo booth, hand in hand.

11:56 p.m. Outside at the valet, Andy Cohen chats up Anderson Cooper and his date Ben Maisani, as well as Jesse Tyler Ferguson and his date Justin Mikita.