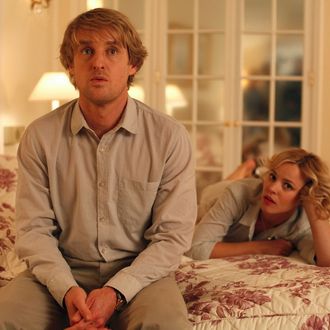 Photo: Sony Pictures Classics
Breaking Bad, Midnight in Paris, The Descendants, and Modern Family were among the big winners at the Writers Guild of America awards last night. Woody Allen won for best original screenplay for Paris, and Alexander Payne, Nat Faxon, and Jim Rash won for best adapted screenplay for The Descendants. The WGA awards are imperfect Oscar foreshadowers, though, because the nominees tend to be so different; Midnight in Paris and Bridesmaids were nominated for both awards, but 50/50, Win Win, and Young Adult were WGA-only.
On the TV side, Breaking Bad won for best drama, and "Box Cutter," its fourth season-premiere, tied with Homeland's "The Good Soldier" for best episode. Modern Family won for best comedy, and its "Caught in the Act" won for best comedy episode. Homeland won best new series, and The Colbert Report won for best comedy/variety series. Host Zooey Deschanel called the ceremony the "nerd prom," even though true nerds know that description is reserved for the White House Correspondents' Dinner.