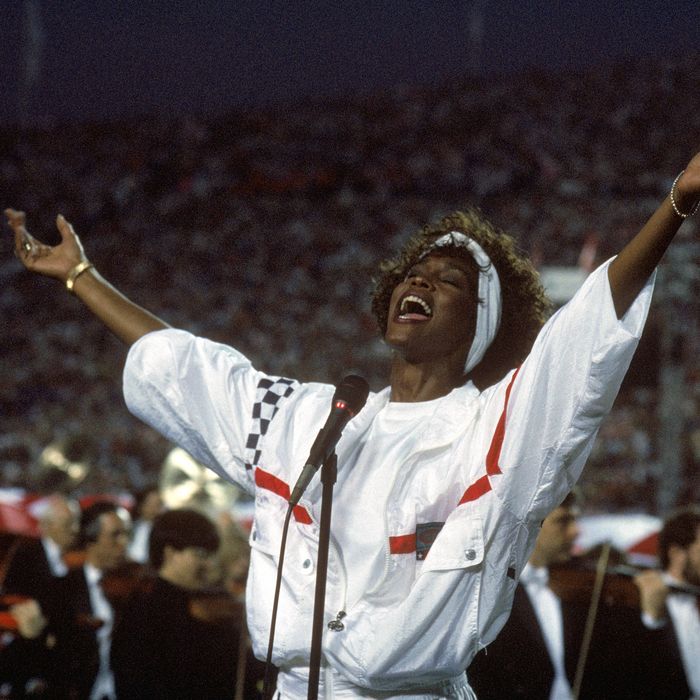 Whitney Houston performing "The Star Spangled Banner" in 1991.
Whitney Houston is dead at the age of 48, leaving us too soon, but with an astounding catalogue of songs and performances to remember her by. If the last decade of Houston's life was a fairly public series of unsettling encounters with drug abuse and drama, the bop-around-your-bedroom joyfulness of "I Wanna Dance With Somebody" and the tingle-inducing key change of "I Will Always Love You" can still make a person forget all that. In the spirit of remembering Houston how she deserves to be remembered, here are eighteen videos of Whitney in her prime, from music videos, to live performances, to her insane rendition of "The Star-Spangled Banner."

Whitney's first performance, at just 19, on The Merv Griffin Show in 1985.
Houston performs "I Will Always Love You" live at the 1994 Grammys, nails the key change. 
And here's the official video for The Bodyguard's Dolly Parton–penned "I Will Always Love You." 
These are the four videos, full of stupendous eighties fashion, for Houston's most famous eighties hits: 1985's "How Will I Know, 1986's "Greatest Love of All," and 1987's "I Wanna Dance With Somebody" and "So Emotional."
Whitney and Mary J. Blige egg each other on in two duets from two different installments of Divas Live, "Ain't No Way" and "Rainy Days." (Houston joins in on the latter at the three-minute mark.) 
Houston performs "We Didn't Know" with Stevie Wonder on Arsenio Hall. 
And also performs "Saving All My Love for You" on Letterman.
"I Will Always Love You" may be the most famous song from The Bodyguard soundtrack, but it wasnt the only hit. Here are videos for Houston's cover of Chaka Kahn's "I'm Every Woman," "I Have Nothing," and (fine, not quite a hit) "Queen of the Night." 
Watch Whitney perform the song she recorded to celebrate the 1988 Olympics, "One Moment In Time," at the Grammys that year. 
In 1996, Houston appeared on Saturday Night Live as the musical guest, but she also participated in a Mary Katherine Gallagher sketch with Molly Shannon, Rosie O'Donnell, and Penny Marshall, singing "Little Drummer Boy." (Around the two-minute mark, Houston almost breaks.) After the sketch are her two musical performances, including one with a large gospel choir. 
The video for Houston's last great song, 1999's "It's Not Right But It's Okay."
Houston absolutely destroying "The Star-Spangled Banner."