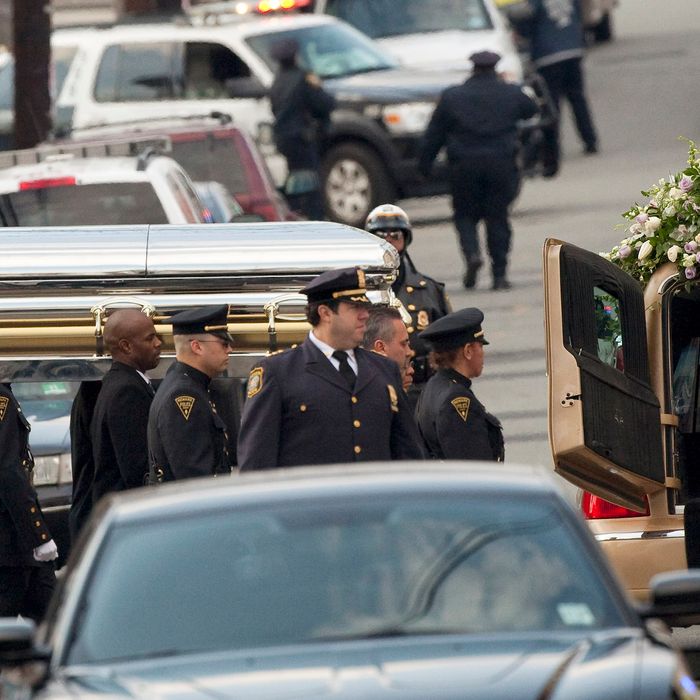 Pallbearers carry Whitney Houston's casket from the church. (Michael Nagle/Getty Images)
Photo: Michael Nagle/2012 Getty Images
Exactly a week after Whitney Houston was found dead in her Beverly Hills hotel room, a beige-colored hearse carried her body to the New Hope Baptist Church in Newark, where she sang as a choir girl all those years ago. Friends and families gathered for a private memorial, where the likes of Stevie Wonder, Alicia Keys, R&B singer R. Kelly, and gospel star CeCe Winans peformed tributes. (Aretha Franklin, Whitney's godmother, was also expected to sing but was unable to attend because of "terrible leg spasms and locked leg muscles," CNN is reporting.) Also speaking during the service: Ex-husband Bobby Brown (who left the church soon after arriving), as well as longtime producer Clive Davis, actor Kevin Costner, movie mogul Tyler Perry, and Houston's bodyguard of eleven years, Ray Watson.
The memorial opened with some rousing soulfulness offered up by the church's all-in-white choir (a moving tribute to Whitney in its own right), after which Newark mayor Cory Booker set the tone with his remarks: "We are here to mourn our loss but to celebrate her life. God is in Heaven and with him is one of our angels, Whitney Houston." Tyler Perry spoke movingly of his short but intimate friendship with Whitney, after which close friend Reverend Kim Burrell sang a custom-written ode: "She was born in Newark, she was Heaven sent … "
When his turn came, actor Kevin Costner told the crowd that (gasp!) "I Will Always Love You" almost wasn't included in The Bodyguard, before asking the assembled congregation to put aside their grief and anger to "remember the sweet miracle of Whitney." To a standing ovation, Costner bid his onetime co-star and friend a final farewell: "So off you go Whitney, off you go, escorted by an army of angels to your Heavenly Father. And when you sing before him don't you worry, you'll be good enough."
Perhaps the most tear-jerking words came from Clive Davis, Whitney's self-professed "industry father" who, like Alicia Keys during her rendition of "Prelude to a Kiss," choked up.
Personally, all that I can say is that I loved her very much. Whitney was purely and simply one of a kind. Yes, she admitted to crazies in her life. Yes, she confessed to Oprah about her searing battles, but when I needed her she was there. She was there for me, an eternally loyal friend.
To Cissy Houston, sitting in the front row, Davis remembered the first time he heard Whitney sing: "Your daughter shattered me." (She was singing "The Greatest Love of All.") To Whitney's daughter, Bobbi Kristina, sitting in the front row, Davis told her to "always, always be proud of your mother. She loved you so very much." Performing soon after, Stevie Wonder dubbed Whitney "the angel from God's choir."
Meanwhile, outside the church, Whitney's fans came from states all around to commemorate her high-octane, high-drama career and life, despite the tight security and the police barricades — one group even spontaneously erupted in a rendition of "The Greatest Love of All," one of the singer's greatest hits of all time (and the song that capture Clive Davis's fascination). Even Newark's gangs decided to pay their respects to the diva by calling a citywide truce. Live-streams of the service were available on TMZ, CNN, and AP TV, which at its peak had as many as 200,000 people watching.
After a full-bodied and memorable eulogy from Reverend Marvin Winans, brother of CeCe and a longtime friend of Whitney's who asked all present to "leave here impacted by her life," New Hope Baptist's own Reverend Joe Carter closed out the four-hour ceremony with a flicker of humor. ("We have more stars here than the Grammys, hallelujah.") And then it was time. To Whitney's own, undeniably perfect rendition of "I Will Always Love You," and an audible murmur from the crowd, the pallbearers hoisted her gleaming metallic coffin onto their shoulders and carried her out.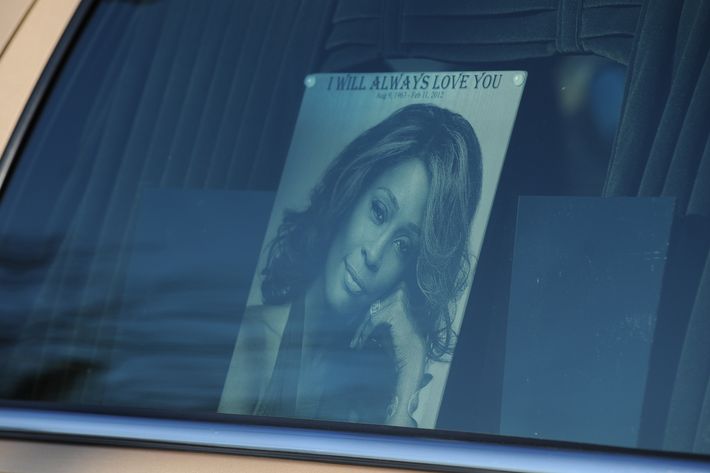 Above, a close-up of the hearse's window showing the cover of Whitney's single "I Will Always Love You," the Dolly Parton original that became synonymous with all the spine-tingling power that Whitney Houston could belt out at her very best.
This post has been updated throughout.