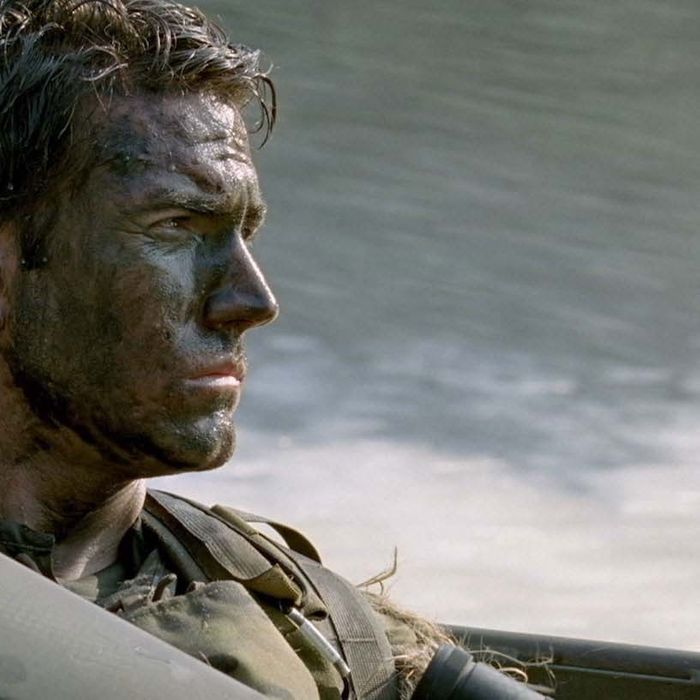 Photo: IATM LLC/? 2011 Relativity Media, LLC. All rights reserved.
This Weekend's Winner: Not only did Act of Valor (No. 1 with almost $25 million) crash ashore and take no prisoners, box office overall continues its conquest of 2012 unabated: It's up nearly 25 percent from the same weekend last year, though that's in part because eight more total movies have been released this year than last year.
This Weekend's Losers: The other two major studio pictures — Universal's Wanderlust (No. 8 with $6.6 million) and Summit's Gone (No. 9 with just $5 million) — were more or less dead on arrival, and Tyler Perry proved that the old adage is true: No good deed goes unpunished. Perry's Good Deeds opened to just $16 million for Lionsgate.
How It All Went Down: Relativity's Act of Valor showed that small, shrewd bets (Chronicle, The Woman in Black) are the ones that seem to pay off biggest lately. The film was a frugal buy for Relativity Media, which reportedly paid only $13 million to acquire it. The beauty of such a cheap movie is that it can afford to "be itself" in its marketing, targeting older, white dudes. Sure enough, that's who showed up, and in droves. Almost three quarters (71 percent) of the Valor audience was Caucasian, and well more than half (60 percent) was over the age of 25. As one top marketing consult explained to Vulture, "It overperformed because they did a good job making men think it was Call of Duty come to life," adding that, interestingly, Relativity found "its biggest-performing markets had big military bases nearby."
Things might have been even better for Valor had it not been for the coincidental release of Tyler Perry's Good Deeds, which helped blunt its opening in urban areas by siphoning off some of its potential African-American audiences. (Only 13 percent of the Valor audience was black, despite the fact that African-Americans make up 17 percent of the nation's active-duty military.)
But things weren't all good for Relativity, which must be ruing the day it agreed to partner with Universal on Wanderlust, the R-rated Jennifer Aniston comedy produced using the Judd Apatow imprimatur but without his directorial oversight. At a budget of $30 million, its days in theaters are likely to be few, and its shot at ever recouping equally slight, for as our marketing spy observed wryly, "Wanderlust underperformed because it looked like an episode of Love, American Style."