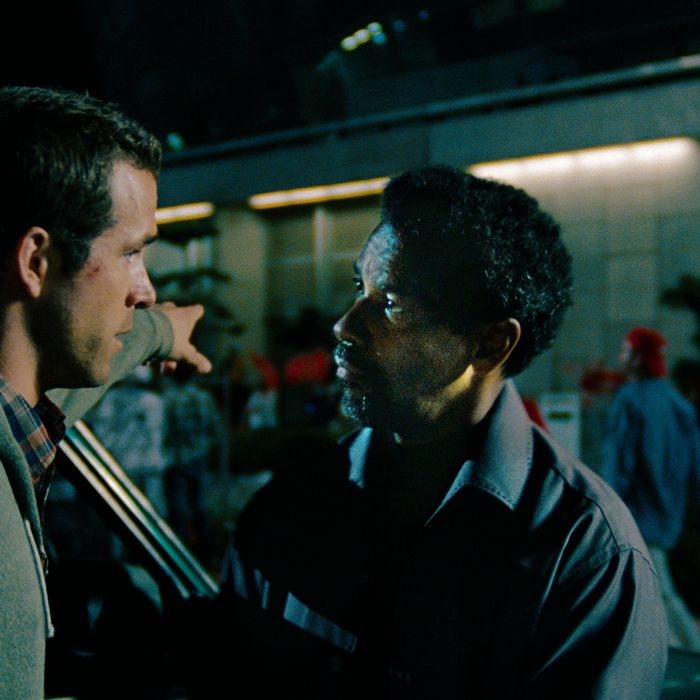 Photo: Universal Pictures
This (Long) Weekend's Winners: Safe House ($28.4 million) managed to find a secure location at the top of the box-office chart this Presidents' Day weekend, followed closely by The Vow (No. 2 with $26.6 million), which in its second week become the highest-grossing film in the history of Screen Gems and now accounts for a fifth of all movie tickets sold this year. Meanwhile, Journey 2: The Mysterious Island  (No. 3 with $26.4 million) was virtually unchanged from the previous weekend, dipping barely 3 percent, helping overall box office surge by 10 percent over the same weekend last year.
This (Long) Weekend's Losers: Moviegoers have long memories, and this weekend, they retaliated for the psychic injuries suffered from Sony's 2007 abomination Ghost Rider by punishing Spirit of Vengeance with a chilly $25.7 million haul over four days. Equally mediocre but far more expensive was Fox's This Means War (No. 5 with $20.4 million), as word quickly spread that the McG romantic comedy was neither romantic nor comedic.
How It All Went Down: Johnny Blaze, we hardly knew ye. Early on, this site explained Columbia Pictures' real motives for making a sequel to the unlamented 2007 critical flop. Legally, if the studio wasn't in production on a Ghost Rider sequel by the middle of November 2010, it would lose the rights forever. Given its tepid opening, it'd be tempting to say Sony should have let old Johnny blaze a trail on home to Marvel, but the studio hedged its bet: Sony spent half of what it did on the original Ghost Rider, so while Spirit of Vengeance grossed half of what the original made five years ago, the fact that it's a cheap-quel means that's of far less concern. (Not so much for Nicolas Cage: The Sorcercer's Apprentice, Season of the Witch, Drive Angry, and now Ghost Rider: Spirit of Vengeance all amply prove the guy is no longer much of a movie star here in the States.) 
More interesting has been the ticket-buying habits of the teen audience, once the most reliable moviegoers around for action movies and genre fare. Ghost Rider actively targeted that audience with its PG-13 rating, and it got roundly ignored. The other two movies aimed at thrill-seeking adolescents this month succeeded massively, but only because they bet small and smart. Since its first release, the 2010 Harrison Ford bomb Extraordinary Measures, CBS Films has been the Gang That Couldn't Shoot Straight, but its Daniel Radcliffe cheapie The Woman in Black has made $47 million so far. Fox's inexpensive found-footage movie Chronicle has made $52.7 million total as of this weekend, which makes it a huge hit considering it only cost $12 million to make. This past weekend, Chronicle and The Woman in Black both gave up less than a quarter of their audiences, grossing $9.2 million and $7.9 million apiece, respectively. If there's a larger worry here, it's that teens aren't the reliable market they once were.
The last paragraph of this post was corrected as it originally confused statistics for the month for those of the year. It also now clarifies that by comparing Ghost Rider, Chronicle, and Woman in Black, the writer was making a point about genre and horror movies that target teen audiences, not all PG-13 movies. While The Vow was rated PG-13, it was targeted to women of all ages, not just teens.